Are you looking for a high-quality commercial zero turn mower? If so, you have come to the right place! Here at YardSimply, we take our time seriously and I would bet on it that you do as well, so let's cut to the chase and find you the best Commercial Zero turn Mower that fits you. 
Benefits of a Commercial Zero Turn Mower
A zero turn mower is a lawnmower with a turning radius that is effectively zero. 
This means that the mower can rotate on its own axis without having to move forwards or backwards, making it much easier to maneuver around tight spaces and obstacles.
The benefits of owning a zero turn mower are many. Perhaps the most obvious benefit is the increased maneuverability compared to traditional lawnmowers. 
With a regular lawn mower, you have to drive up and down the lawn in order to make turns, which can be time-consuming and frustrating. 
With a zero turn mower, you can simply spin around on your own axis, meaning you can save valuable time when mowing your lawn.
Another great benefit of owning a zero turn mower is that it can help you reduce your grass cutting time by half! 
This is because you don't have to waste any time driving back and forth across your lawn – you can simply zip around quickly and efficiently thanks to the excellent maneuverability of these types of machines. 
If you have a large yard, then investing in one of these could end up saving you hours of precious time each week during the summer months.
Finally, another key advantage of using a zero turn mower is that they tend to do a greater job at evenly trimming the grass across your lawn due to their rotating blade systems & design (as opposed to regular lawn mowers which often miss patches). 
This ensures that the finished product looks more professional & polished – giving you one less thing to worry about when trying to maintain an attractive outdoor space!
How Do Commercial Zero Turn Mowers Differ From Traditional Mowers?
A commercial zero turn mower is a specialized piece of lawn care equipment that is designed for use by professional landscapers and turf managers. 
Unlike traditional lawn mowers, which have a front-mounted engine and rear-mounted cutting deck, commercial zero turn mowers have their engines mounted in the center of the machine, between the two drive wheels. 
This design provides several advantages over traditional mowers, including increased maneuverability, greater operator comfort, and better cutting performance. 
When it comes to maneuverability, commercial zero turn mowers are in a class of their own. 
Their compact size and low center of gravity make them extremely easy to handle, even when operating on slopes or rough terrain. 
And because the cutting deck is located directly behind the engine (rather than off to one side), there's no need to worry about grass buildup under the deck affecting the machine's handling or stability. 
Commercial grade mowers also offer superior operator comfort compared to traditional machines. 
The centralized seating position means that operators enjoy better visibility while they're working, and there's no need to constantly twist your body back-and-forth as you move from one side of the lawn to the other. 
Furthermore, zero turn commercial mowers feature padded seats with armrests and adjustable steering columns for added ergonomic support. 
Finally, due to their unique design layout, commercial zero turns typically provide better overall cutting performance than traditional lawnmowers as well—even on large properties with lots of obstacles like trees and shrubs scattered around. 
That's because their centrally located engines allow for shorter driveshafts connecting the blade assembly to power source, meaning less power is lost during operation (which results in cleaner cuts). 
In addition; Because both drive wheels are powered independently (unlike most front/rear wheeled machines where only one set is driven), each can be controlled separately; resulting in smoother turns & fewer missed patches when compared against typical 2WD models – making them ideal for those who frequently change direction while mowing
What to Consider When Choosing the Best Commercial Zero Turn Mower
Are you looking for the very best commercial zero turn mower? If so, there are a few things you need to consider before making your purchase for a powerful lawn mower.
Cutting Deck Size
The first thing you need to think about is the size of the cutting deck. 
The larger the cutting deck, the more expensive the mower will be. 
However, if you have a large lawn, it is worth spending the extra money on a mower with a large deck.
For a lawn that is less than one acre in size, you will need a mower with a deck that is 18 to 36 inches wide. 
Between one and three acres in size, Mower with a deck that is 36 to 48 inches wide. 
And for a lawn that is five acres or more in size, you will need a mower with 54- to 72-inch decks.
Engine Power and Speed
Another thing to consider is engine power and speed. 
Most commercial zero turn mowers have engines that range from 18 horsepower to 25 horsepower. 
The speed of the mower is also important to consider. Some mowers can go as fast as 12 miles per hour while others only travel at 6 miles per hour. 
fuel capacity is another factor when choosing between different models of commercial zero turns.- how much time will you spend refueling? 
idling says If you plan on using your mower for long hours or days at a time, choose one with a large fuel tank so that you don't have to stop and refuel frequently.
Fuel Capacity
Comfort is a significant feature to- look for padded seats & easy controls placement! 
Also -check reviews regarding mulching capabilities (for leaves)and noise output vibration reduction efforts of certain models.   
Another comfort feature includes cup holders and storage compartments which can come in handy when working long hours in hot weather conditions.
Weight
The weight of the machine is an important consideration because it affects maneuverability. 
A lighter machine is easier to handle and will be less fatigue on your body while working. 
However, a heavier machine will provide more stability on slopes and uneven terrain. So, choose according to your needs and preferences.
Safety and Comfort
Safety features should not be overlooked! 
Reversing sensors help avoid obstacles and children or pets running into blade paths . 
Operator presence levers ensure that the user remains seated while blades are spinning. 
Some higher end models even offer roll bars similar to those found in cars which add an extra layer of peace of mind when tipping does occur.
Best Overall: Exmark Lazer Z X-Series
Exmark's Lazer Z X-Series is one if not the best commercial zero turn mower, gas-powered zero turn mower with plenty of impressive features. 
It comes standard with rugged, commercial grade engines and offers Electronic Fuel Injection (EFI) options for even better fuel efficiency.
Additionally, the EGov system automatically adjusts engine speed based on load which can lead to up to 41% less fuel consumption. 
The UltraCut Series 6 deck is available in both 60″ and 72″ sizes or go big with the 96″ option. 
The deck also features rear discharge capabilities along with Flex Wings that allow you to quickly adjust cutting width without having to remove any bolts or pins.
Plus, it helps improve airflow for a more consistent cut across the entire width of the blade.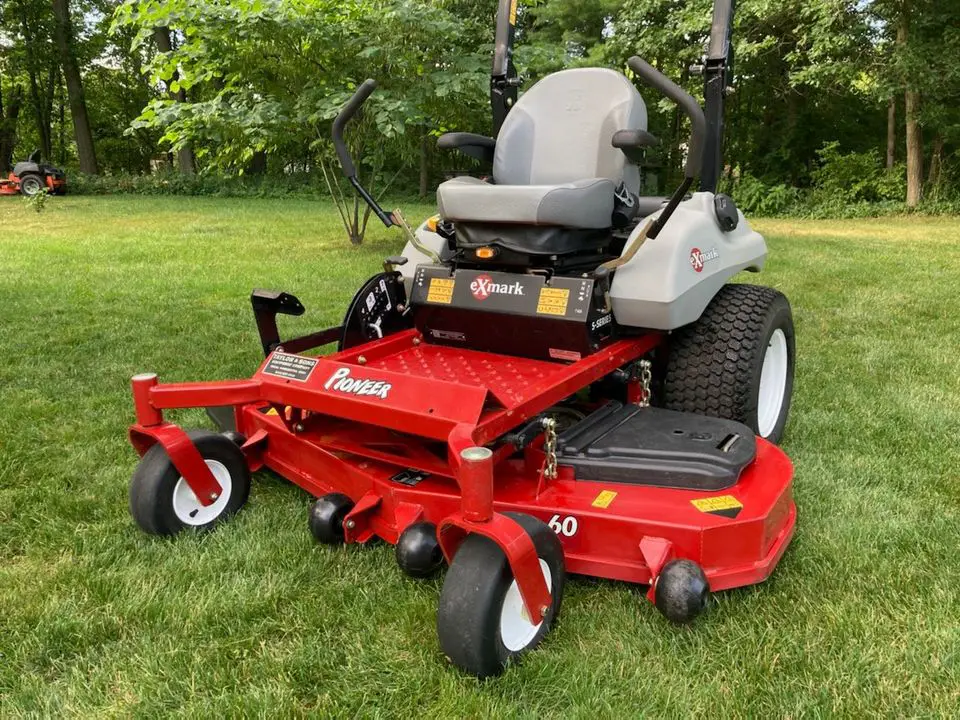 Product Specs
Engine: Kawasaki, FX801V 852 cc V-Twin
Deck: 60″ 72″ 96″
Weight: 1302 Pounds
Pros
Oil Guard System, allowing up to 500 hours before oil changes
Tool-less Belt Removal, no need to carry a tool box around
Able to boost fuel efficiency with Red Technology
Cons
Best Start-up Commercial: DeWalt Z260 Hydrostatic Commercial Zero Turn Mower
The DeWalt Z260 hydrostatic commercial zero turn mower is a great choice for those who need to mow 4-10 acres of land with ease. 
It features a 25 HP Kawasaki engine that delivers high power performance and up to 500 ft-lbs of torque, along with its transmission providing stability over rough terrain.
The 60″ deck provides maneuverability as well as making it easy to tailor the cutting experience through the moveable lap bar which can be adjusted accordingly.
Rigid steel framing helps ensure durability while still remaining light enough so you won't waste energy when using this mower – perfect for those long shifts!
With all these great features in mind, you'll soon see why investing in DeWalt's Z260 Hydrostatic Commercial Zero Turn Mower will give your business the best possible start out there!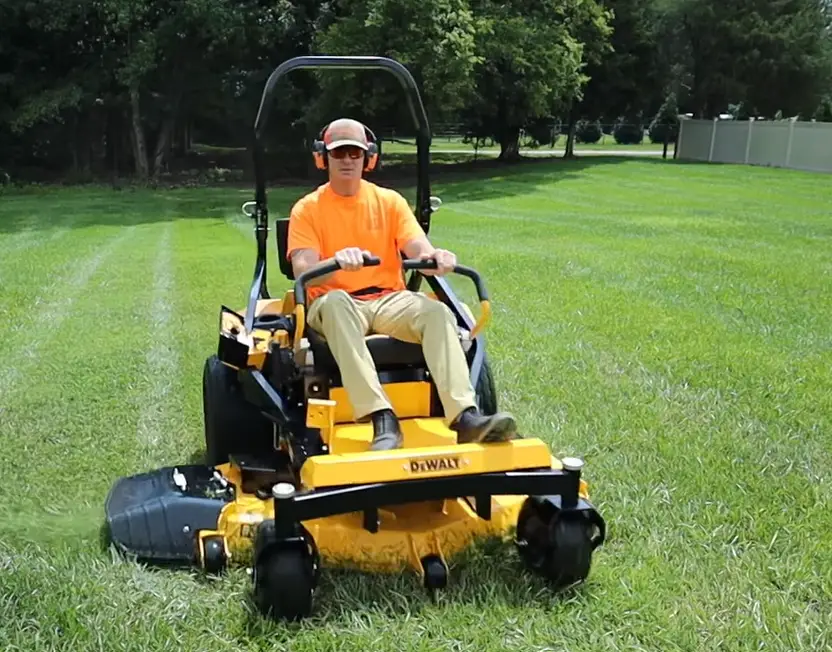 Product Specs
Engine: 24 hp Kawasaki FS gas
Deck: Fabricated 10-gauge steel 60-inch deck
Weight: 1,130 pounds
Pros
4-year, 800-hour limited warranty
rollover protection bar
Stable deck
Smooth Cutting experience 
Cons
Not intended for long commercial use
Best Bang for the Buck: Bad Boy ZT Elite
Looking for a commercial zero turn mower that can really handle any terrain? Then you need the Bad Boy ZT Elite. 
This top-of-the-line machine is built with a 7 gauge deck and independent front arms that allow it to easily glide over any type of terrain. 
Plus, its high-efficiency drive system ensures class-leading torque so you can get through even the thickest grass. 
And if you need to lift the deck for clearing obstacles, no problem! The integrated pedal makes it easy to do just that. 
So why settle for anything less than the best? Choose the Bad Boy ZT Elite and get your lawn looking its absolute best.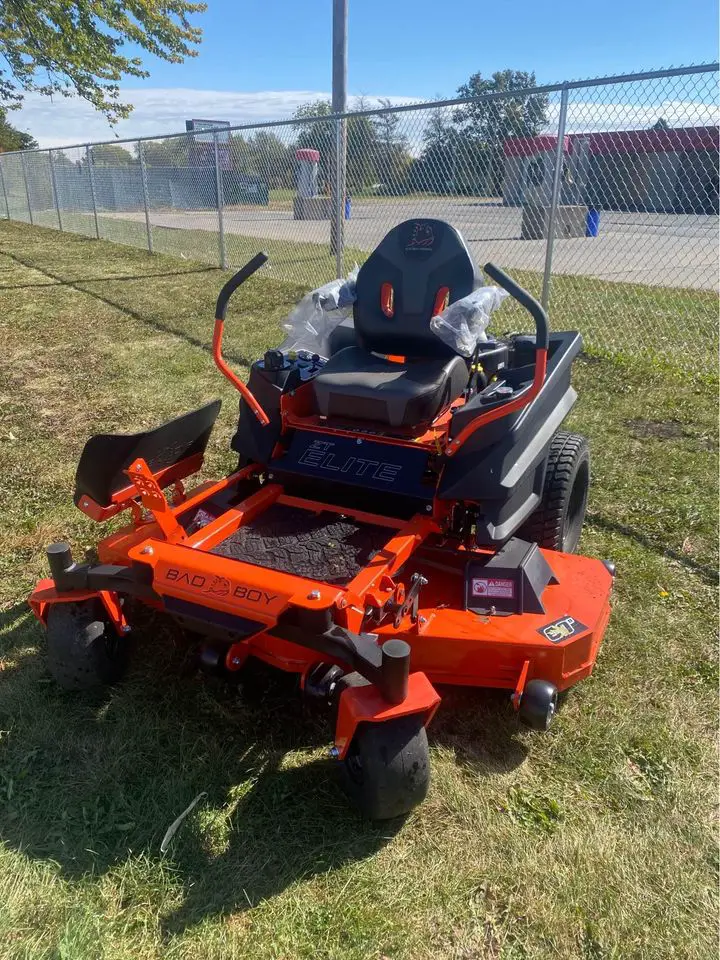 Product Specs 
Engine: 747 cc, 26 hp Kohler gas
Deck: 7-gauge steel 60-inch deck
Weight: 841 pounds
Pros
Top of the line cut
Smooth engagement of the blade
Deck design allowing max airflow
Cons
Not fuel efficient
vibration
Best for Two Acres: Ariens 991151 zero turn Lawn Mower
The Ariens 991151 zero turn Lawn Mower is a top quality lawn mower that features a 4-point deck mount design and 60″ 10-gauge welded steel deck. 
It also has a 18,000 feet per minute blade tip speed for superior cutting performance. 
Additionally, the 5.5″ depth deck helps to prevent scalping and provides greater stability while mowing throughout your 2 acre lot. 
Lastly, the large tires provide improved traction and maneuverability on rough or uneven terrain.
Product Specs
Engine: 23hp, 726cc V-Twin Kawasaki FR series gas
Deck: 11-gauge steel 60-inch deck
Weight: 853 pounds
Pros
Non slip traction
On demand power
Self adjusting belt tensioner
Cons
Too large to be delivered
Pricey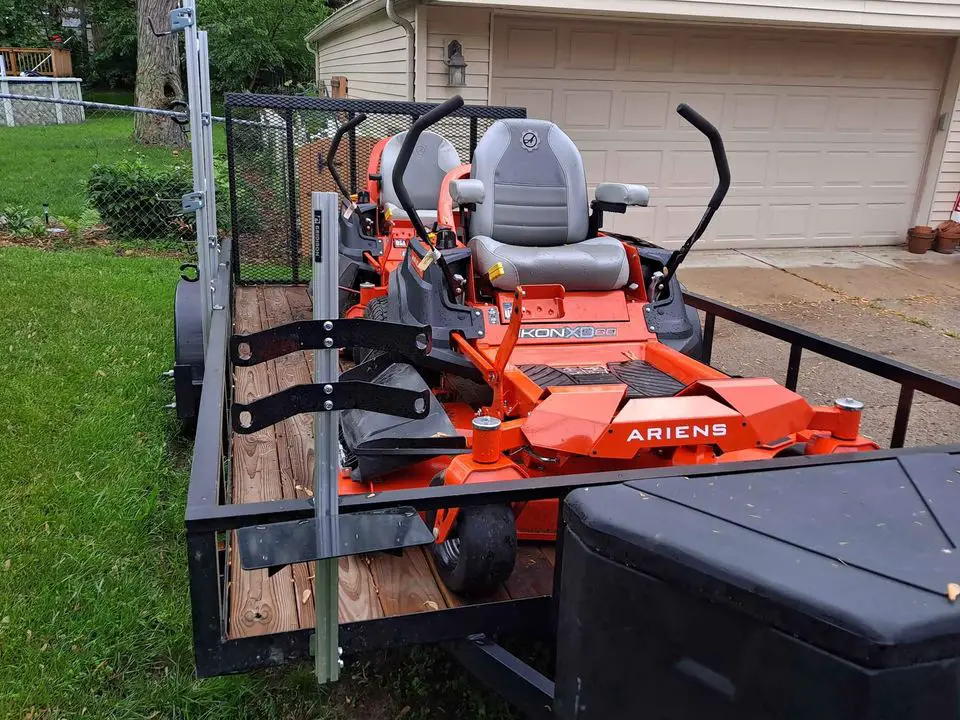 Best for Open Ground: Hustler Super Z
Hustler Super Z lawn mowers are built tough and designed to last, so you can count on them year after year. 
And with a variety of models to choose from, there's a Hustler Super Z that's perfect for any size property. 
Whether you have a large estate or just a small yard, a Hustler Super Z will get the job done quickly and efficiently. 
These mowers are packed with features that make them ideal for commercial use, including heavy-duty deck construction, powerful engines, simple controls for easy operation, and an impressive cut quality.
But they're also easy enough to operate without all the hassle so you can put your worries elsewhere.
Product Specs 
Engine: 27, 35, or 38.5 hp Kawaski gas; or 36 hp Vanguard gas
Deck: 7-gauge fabricated steel 54-, 60-, 66-, or 72-inch deck
Weight: 1,420 to 1,566 pounds (rear discharge)
Pros
Some of the best comfort
Large fuel tank
Easy to maintain
Cons
Many different options can get overwhelming for a new buyer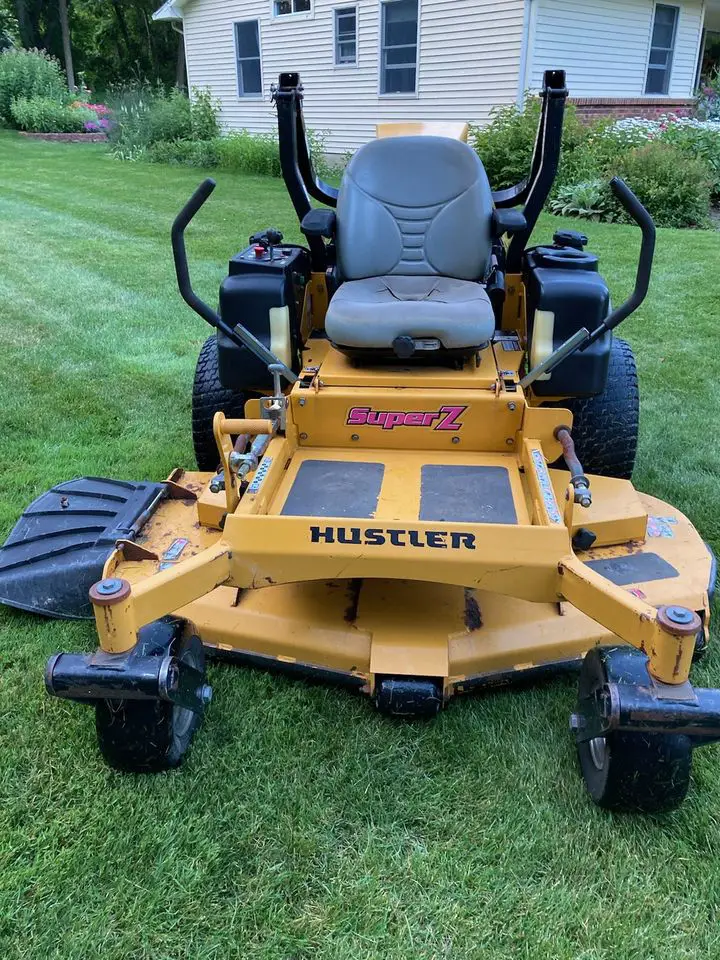 Best for Rough Terrain: Husqvarna Z254 zero turn Lawn Mower
Husqvarna's Z254 zero turn lawn mower is a powerful machine that can make quick work of even the largest lawns. 
It features a 27 hp Briggs & Stratton gas engine and an 11-gauge fabricated steel 61-inch deck that can easily handle rough terrain. 
With its large cutting width, it can significantly reduce mowing time, making it ideal for those who have large properties or who simply want to get the job done as quickly and efficiently as possible.
Product Specs
Engine: 27 hp Briggs & Stratton gas
Deck: 11-gauge fabricated steel 61-inch deck
Weight: 770 pounds
Pros
3 Year Bumper to Bumper Warranty
Great traction
Keeps stable while cutting
Cons
Vibrations
Steering controls dont reset on their own
Best on Hills: Husqvarna MZ61 zero turn Lawn Mower
Husqvarna MZ61 is a robust zero turn mower with a high speed of 8.5 mph and large 54" cutting deck, making it ideal for both residential and commercial lawns. 
The 11-gauge steel fabricated deck ensures durability while the 27 hp Briggs & Stratton gas engine provides enough power to tackle any terrain or landscaping job. 
You can easily maneuver around obstacles with its dual hydrostatic transmission system and 16" rear wheels. 
Best for hills, this model also includes an anti-scalp wheel kit to protect your lawn from damage caused by the blades.
Product Specs
Engine: 24 hp Briggs & Stratton gas
Deck: 11-gauge fabricated steel 54-inch deck
Weight: 542 pounds
Pros
Easy to control deck avoid scalping
Multiple cutting methods, side discharge, collect or mulch
Easy to engage electric clutch blades
Cons
Clipping tend to get caught under deck
Best Heavy-Duty: Kubota Z723KH-3-48
Kubota's new Z723KH-3-48 is a heavy duty zero turn mower with a fabricated 8 gauge steel deck. The KH in the model name stands for "heavy duty." 
This machine is designed for commercial operators who need a durable and dependable machine that can handle even the toughest jobs. 
The 48″ cutting width is perfect for large yards or fields, and the 3 blade cutting system will leave your lawn looking pristine. 
Kubota has really outdone themselves with this latest release, and it shows in the quality of construction and attention to detail. 
If you're in the market for a top-of-the-line zero turn mower, the Z723KH-3-48 should definitely be at the top of your list.
Product Specs
Engine: 22.5, 23.5, or 25 hp Kohler gas; or 23.5, 25.5, or 29.5 hp Kawaski gas
Deck: 8-gauge steel-fabricated 48-, 54-, or 60-inch deck
Weight: 1,168 to 1,285 pounds
Pros
Easy to access engine compartment
Maintenance is a breeze
Durable and well constructed
Large fuel tank
Cons
Extremely heavy avoid manually pushing.
Will require a sturdy tailor to transport
Best Suspension: Ferris ISX 3300
The Ferris ISX 3300 is one of the best commercial zero turn mower on the market due to its smooth ride and superior suspension. 
If you are looking for a top-of-the-line model that will provide you with a comfortable experience while also delivering exceptional results, then this is the machine for you.
 Some of the features that make this mower so special include its hydrostatic transmission, which ensures a smoother ride.
Its independent rear wheel suspension, which guarantees better traction and stability even on rougher terrain. 
In addition, the sealed deck design helps protect against rust and corrosion, while also keeping grass clippings out of sight – meaning your lawn will always look neat and tidy. 
Product Specs
Engine: 31 or 38.5 hp Kawasaki FX gas; or 36 or 40 hp Vanguard gas
Deck: 61- or 72-inch deck
Weight: 1,470 to 1,717 pounds
Pros
Comfortable seat with lumbar support
Front suspension allowing it to have full range of travel
Handles bumps like a pro
Ability to have multiple attachments
Cons
4 year Limited warranty
Flat free caster tires sold separately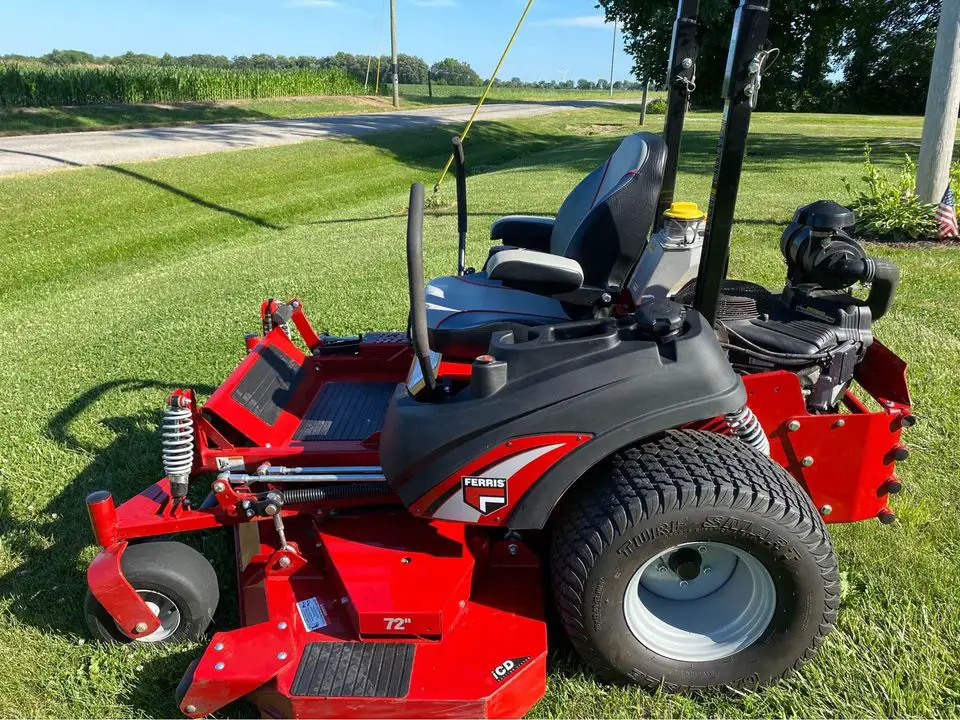 Best Comfortable Ride: Toro TimeCutter 54 in. MyRIDE Zero Turn Mower
The Toro TimeCutter is the solution for yards that are pitted and pocked with bumps and ruts. The residential market was considered when this mower was developed; however, it is outfitted with commercial-grade components throughout, including the MyRIDE Suspension System.
The operator platform in this patented system is suspended so that it floats on front and rear shocks that can be adjusted independently.
It allows the entire frame of the mower to absorb the bumps and maintains a level relationship between the deck and the ground, allowing users to mow comfortably at maximum speed.
The Toro TimeCutter has a fabricated 10-gauge steel 54-inch deck and is propelled by a 24-horsepower Kohler V-twin gas engine. Additionally, the Toro TimeCutter has a 54-inch cutting width. It can reach speeds of up to 7 miles per hour and has a fuel tank that can hold up to 5 gallons of gas.
This mower comes in at just 672 pounds and is not intended for use on hilly terrain due to its design. Compared to full-on commercial-grade equipment, it is a fantastic option for landowners who own up to seven acres of land or for small-scale commercial operators looking to save fifty percent of the cost.
Product Specs
Engine: 24.5 hp Kohler gas
Deck: Fabricated 10-gauge steel 54-inch deck
Weight: 672 pounds
Pros
Suspension system allowing top tier ride performance
Engine bay has a blocking feature to prevent unwanted cleaning
Cup holder, you know for your Beer
Cons
Rubber chute, can get broken easily
Hydro speeds not easily controllable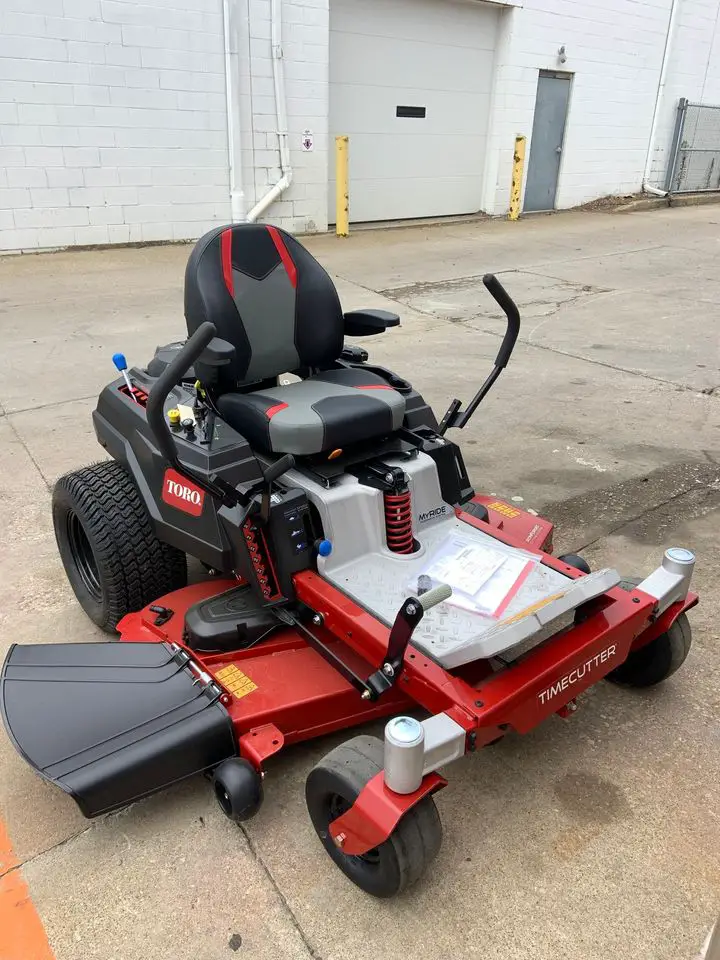 Safety and Maintenance Tips for Commercial zero turn Mowers 
A commercial zero turn mower is a powerful and versatile machine that can make short work of even the largest lawns. 
But like any other piece of machinery, it needs to be used properly and maintained carefully in order to stay safe and effective. Here are some tips on how to do both: 
When using your commercial zero turn mower, always remember to read the operator's manual before starting up the engine. 
Familiarize yourself with all of the controls and safety features so that you know how to use them correctly in an emergency situation. 
Always wear proper safety gear when operating the mower, including ear protection, eye protection, gloves, long pants, closed-toe shoes, and a dust mask if needed. 
Be aware of your surroundings at all times while mowing – children and pets should be kept well away from the area where you're working. 
Pay attention to obstacles such as rocks or tree roots that could cause damage to the blades or throw debris into your path. Avoiding these hazards will help keep you safer while also prolonging the life of your equipment. 
To maintain your commercial zero turn mower in top condition (and ensure it remains safe to operate), regular cleaning and servicing is essential. 
The air filter should be replaced at least once per year (more often if you live in a dusty environment) and the Blades must be sharpened regularly – typically every 20 hours or so of use. 
The deck should also be cleaned after each use by removing any build-up of grass clippings or other debris; this will help prevent rusting over time
Conclusion
Now that you have read about the best commercial zero turn mowers, it is time to make a decision on which one will be right for you.
It is important to remember that there are many different factors to consider when purchasing any type of lawnmower, so be sure to do your research before making your final purchase.
With so many great options available on the market today, finding the best commercial zero turn mower for your needs should not be difficult. Be sure to take into consideration all of the information provided.
Now it's time to grab another beer, and get you the best commercial zero turn mower that fits your budget.
Why you should trust us
There are a lot of different lawn mowers on the market, and it can be tough to know which one is right for you. 
Senior staff writer Zane Williams has done the homework and spent over 100 hours researching different types of mowers and talking to experts in the field like Justin Watkins of Earth Tones Landscaping. 
And we've put together this guide to help you make an informed decision about which one is right for you.
We only recommend products that we believe in and that we think will deliver value for money. 
We also test each of the mowers ourselves before giving our final verdict – so you can rest assured that they meet our high standards. 
Our goal is to help you find a lawn mower that suits your needs, budget, and lifestyle so that you can enjoy your backyard space worry-free.
FAQs (Frequently Asked Questions Best Commerical Zero Turn Mower)
If you're considering buying a commercial zero turn mower, you probably have some lingering questions. Here are answers to some of the most frequently asked questions:
What makes a zero-turn mower commercial?
A zero turn mower is a commercial lawn mower because it can make very tight turns. This type of mower is also considered to be more durable and powerful than a standard residential lawn mower.
What is the biggest size zero turn mower?
The biggest size zero turn mower is typically a 72 inch model.
Why do commercial mowers cut better?
There are a few reasons that commercial mowers cut better than residential ones. First, they usually have more powerful engines with higher torque. This allows them to turn the blades faster and put more pressure on the grass, making for a cleaner cut.
Second, they often have wider cutting decks and taller wheels, which makes it easier to go over larger areas of lawn without missing any spots.
Finally, many commercial mowers come equipped with features like mulching kits or bagging systems that help collect clippings and improve the quality of the cut.
How fast do commercial lawn mowers go?
Most commercial lawn mowers have a top speed of around five to six miles per hour.