Say goodbye to slaving over your lawn and never getting the look you desire, as there are now electric zero-turn mowers available that can revolutionize how easily it is maintained!
This guide will outline all of the features in these best electric zero turn mower options for 2023, which make them both environmentally friendly and highly efficient.
See what turning your lawn care into a breeze looks like with an amazing new level of convenience thanks to these remarkable advances in technology!
Short Summary
Electric zero-turn mowers offer numerous benefits over traditional gas mowers, such as convenience and eco-friendliness.
In 2023, the top electric zero turn mower models provide a variety of features and benefits to meet residential, and commercial needs.
Safety is essential when operating an electric zero turn mower. PPE should always be worn, and emergency shut-off features must be understood for optimal safety.
Understanding Electric Zero Turn Mowers
Electric zero-turn mowers are revolutionizing lawn care with unlimited runtime, lightweight construction and remote operation possibilities.
These advantages over traditional gas models make them especially popular for residential use due to the increased reliability, lack of noise or emissions and low maintenance requirements that electric machines provide.
What makes these cutting edge technologies stand out? Here is a closer look at what sets electric zero turn mower apart: convenience, infinite power potentials along with advanced features like remote management, all wrapped up in one powerful machine!
What is a Zero Turn Mower?
Zero turn mowers are a must-have when it comes to cutting grass quickly and efficiently. They offer unmatched maneuverability due to their innovative design, making them the perfect choice for professional landscapers.
If you want an even more streamlined experience then electric zero turn mowers could be your ideal pick with some of the most reputable brands such as Ryobi, Cub Cadet or EGO offering various models suited for every yard size or purpose imaginable.
Whether it's taking care of small suburban yards or larger estates, there is sure to be an electric zero turn that can do the job perfectly!
Advantages of Electric Zero Turn Mowers
Electric zero turn mowers bring a lot of advantages when contrasted to their gas-powered siblings. Such reliability, quiet operation and lack of emissions make these ideal for residential use where peace is required.
Electric models are lightweight, which makes them easier to move around the garden as well as store away conveniently. Boasting battery technology and powerful brushless motors, they can deliver terrific results all while having minimal environmental effects.
Making them a far more environmentally friendly choice in lawn care than any other alternative out there such as zero turns or regular mowers run on gasoline.
Electric vs Gas-Powered Mowers
Electric mowers are powered by an electric motor, whereas gas-powered ones use gasoline. This provides the benefit of being eco-friendly and operating quietly without incurring fuel costs or needing much upkeep.
Lithium ion or lead acid batteries in modernized zero turn models promote extended life with minimal maintenance requirements compared to standard gas mower battery systems.
All things considered, when contrasting between the two options for lawn care machinery, electric zero turns offer more dependability as well as efficiency while also proving advantageous for its positive environmental effects it can have on air quality overall.
Top Electric Zero Turn Mowers for 2023
We have researched and found the top electric zero turn mowers in various categories for 2023. They are perfect choices whether you need a residential, commercial or budget-friendly one.
Power output, energy efficiency and environmental impact set these machines apart from others by their cutting widths being bigger than average size as well as having longer battery life that provides higher performance levels and comfortability of use over other brands.
Let's take a look at each model closely to evaluate what features they offer so we can make sure our purchase is right for you!
All of them provide great benefits like improved deck sizes offering efficient runtime options whilst remaining easy to operate.
Thanks to advanced motor technology embedded within them along with effective energy savings contributing towards saving on resources used.
Residential Electric Zero Turn Mowers
For homeowners looking for a highly efficient electric zero turn mower, there are an array of impressive models available.
The GreenWorks Crossover Z
The GreenWorks Crossover Z is a fantastic mower designed to efficiently handle areas up to 2 acres with ease and precision.
This reliable cutting power can be attributed to its three high-performance 1.2 kilowatt brushless blade mowers that maintain an impressive speed of 3,000 rpm.
With the capability to reach up to 8mph in flat speed, this remarkable machine ensures smooth driving experience under cruise control while maintaining maximum fuel efficiency throughout its operation.
One of the main attributes setting it apart from competitors during field tests was the exceptional level of control provided by its innovative design.
Effortlessly maneuvering through challenging terrain like sloped ends or making tight turns without compromising on performance quality or stability.
Proving itself as an essential choice for those seeking consistent satisfaction within their lawn care routine
Cutting Deck: 42 Inches
Deck Type: Stamped 12-gauge
Battery (V): 48V 24hp
Run Time:  2.25 acres (1 hour)
Battery Power: 48 Ah
Speed: 8 mph
Warranty: 4 Years
Pros
A 60V motor producing the equivalent of 24 horsepower provides plenty of power to work with.
16 cutting height settings for powered and non-powered attachments are possible with electric take off, and cutting on slopes of 15 degrees is supported.
fabricated 12-gauge steel deck
Cons
For larger properties, battery runtime might be insufficient.
EGO POWER+ Z6
The EGO POWER+ Z6 is an innovative and efficient mower designed for residential properties with up to 2-acre coverage.
This 52-inch model boasts an impressive level of overall battery storage, making it one of the fastest-charging zero-turn mowers in the market today.
With a total battery capacity of 72 Ah, this powerful machine ensures shorter charging time – approximately two hours – providing more convenience and greater performance than traditional gas mowers.
Not only does it fit the needs of normal people looking for reliable lawn maintenance solutions but its purpose design also includes comfort features like easy-to-use controls that make operation seamless even for first-time users.
The EGO POWER+ Z6 demonstrates how well-manufactured products can truly capture attention while adequately addressing customers' needs through practicality and functionality without compromising on quality or effectiveness.
Proving once again why Ego products continue to lead in their respective fields within this evolving industry landscape
Cutting Deck: 42 Inches
Deck Type: Stamped 10-gauge
Battery (V): 56V
Run Time: 2 acres (55 mins)
Battery Power: 40-60 Ah (up to 2hrs)
Speed: 3-8 mph
Warranty: 5 Years
Pros
Has an extra 2 battery slots for upgrades and is capable of mowing 2 acres on a single charge.
batteries are charged in two hours.
blinking rear LED lights when reversing
3 unique driving modes
hydraulic seat modification
Cons
While moving, neither speeds nor modes can be changed.
Commercial Electric Zero Turn Mowers
Electric zero turn mowers offer commercial users the durability and power they need for professional lawn care. Brands like Gravely and Mean Green are popular choices because their electric models have higher power output than residential models, with a range of 25 to 37HP.
Ryobi 80V RYRM8034 54-Inch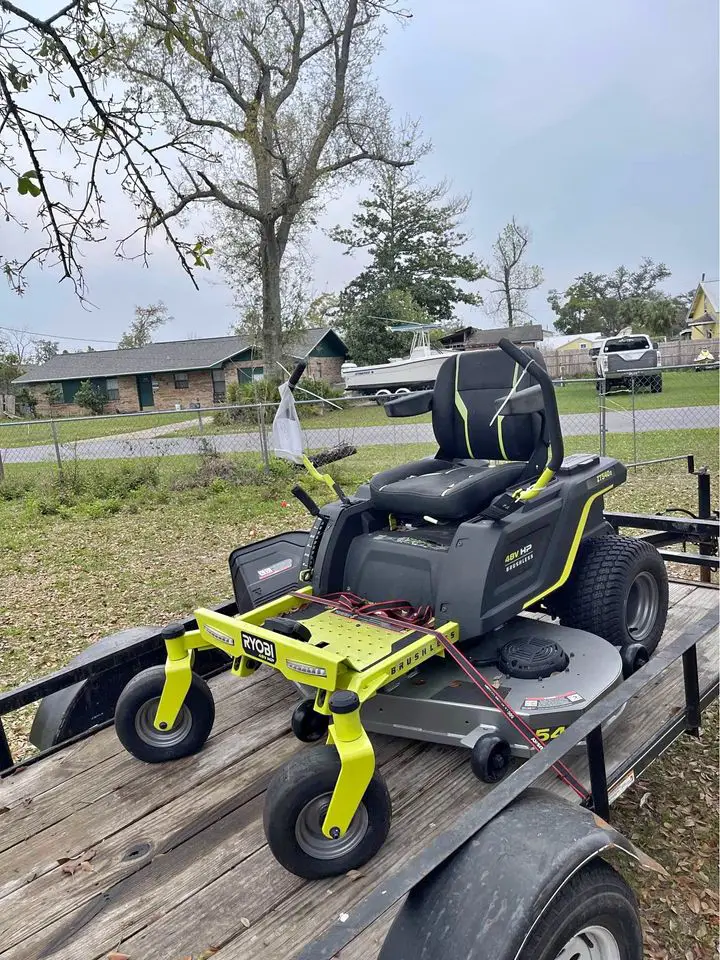 The Ryobi 80V RYRM8034 54-Inch mower packs incredible strength and a standout feature with its innovative joystick control, providing a smooth ride and ease of use unlike standard lap bar steering controls.
This right-left control coordination allows for close cutting in curves and tight areas while offering one-handed operation.
The sturdy fabricated deck houses two cutting blades that provide an expertly manicured look to the lawn even in just a single pass through dense grass or uneven lawns.
Operated by powerful brushless motors equivalent to approximately 42 HP, this remarkable Ryobi mower can cover up to four acres on current battery life without issue; however, keep in mind that exceptionally thick grass could affect runtime negatively.
A convenient LCD screen displays important info such as remaining drive speed options while buttons located at easy sight facilitate adjustments like headlights or Bluetooth connectivity during usage.
Shifting focus onto simplicity instead of traditional complications found from gas mowers past (and undoubtedly allowing your lawn goals).
Cutting Deck: 54 Inches
Deck Type: Fabricated deck
Battery (V): 80V
Run Time: 2.5 Hours
Battery Power: 30 Ah
Speed: 8 mph
Warranty: 3 Years
Pros
Joystick control is simple to use and enjoyable.
large capacity for cutting per charge
with six cross-cutting blades and strong motors
enormous cutting width
cushioning and suspension that are comfortable
Extended warranty
Cons
Long grass quickly depletes battery life
Cub Cadet ZT1 42E
The Cub Cadet ZT1 42E is a high-quality mower designed for optimal residential mowing, ensuring your lawn looks immaculate every time.
This powerful grass cutting machine features a lithium-ion battery that allows it to easily cover two acres of land on just one charge while providing continuous power from its dual automatic electric transmissions.
With the ability to reach speeds up to 7 mph, people will find the Cub Cadet Ultima's handling easy and efficient even as they maneuver around obstacles or park between other vehicles in tight spaces; however, some may struggle when using lower speed settings.
The maximum cutting height of this exceptional mower stands at 4 inches – though not ideal for those desiring thicker lawns with heights reaching above this limiting factor.
Many would agree that maintaining an evenly trimmed terrain can be achieved without surpassing these dimensions making the investment worthwhile.
Cutting Deck: 42 Inches
Deck Type: Stamped
Battery (V): 56V
Run Time: Up to one hour
Battery Power: 60 Ah
Speed: 7 mph
Warranty: 3 Years
Pros
Four hours for charging
two electric automatic transmissions
The eco-friendly, brushless motor has continuous power.
Seat with a high back for greater comfort
Capabilities for side discharge, bagging, and mulching
Cons
The battery life could be a little bit longer.
Lower speed operation requires challenging handling
Key Features to Consider When Buying an Electric Zero Turn Mower
When looking for the right electric zero turn mower, you need to be sure and examine a range of key attributes.
These include battery capacity/usage period, size of deck as well as cutting width, how easy it is to use or manipulate when working with power output levels together with motor technologies while factoring in energy conservation along with environmental impact.
One must consider sound and vibrations too – all these play into finding an option that meets your lawn care needs providing excellent comfort level while being efficient plus eco-friendly during mowing operations.
Battery Capacity and Runtime
When selecting an electric zero-turn mower, it's important to take the battery capacity and runtime into account as this will determine how far they can cut with one charge.
A 75 Ah battery is able to provide coverage for around two acres while a 100Ah power source could reach about three acres of land.
The EGO Power+ ZT5207L 52-Inch Z6 stands out in its class due to its capability of connecting up six batteries that together offer enough energy supply for five acres worth of cutting action.
Variables like thick grass or increased speed settings may reduce total duration so having backups at hand would be beneficial too. Learn how long it takes to charge a battery.
Deck Size and Cutting Width
When picking an electric zero-turn mower, take into account the deck size and cutting width. The cut area's breadth is signified by the former while the actual grass trim that can be sliced with one pass of a turn mower corresponds to the latter.
According to your yard dimensions, you may need more significant or minor deck sizes for successful lawn maintenance endeavors. For yards less than 1/4 acre, it's best practice to pick a 14–21 inch segment.
Bigger areas require up to 42 inches or more in order to maximize efficient performance and endow consistent cuts all around your land property.
Comfort and Ease of Use
When purchasing an electric zero-turn mower, make sure to find one with comfort and convenience in mind. Features such as adjustable seating, padding on the seat itself, arm rests and a backrest can provide an improved user experience when it comes to cutting grass.
Look for control panels that are easy to use like those featured on models like EGO Power+. With these types of features, you'll be able to maximize your lawn care efficiency while having a more enjoyable time doing so!
Electric Zero Turn Mower Performance and Efficiency
When investing in an electric zero turn mower, consider factors such as power output and motor technology, energy efficiency, environmental impact/effectiveness of emissions control, noise levels and vibration for the best performance.
This will not only make lawn care tasks easier, but also more efficient due to its superior features. Plus it adds a bonus by being environmentally friendly at the same time!
Power Output and Motor Technology
When looking to buy an electric zero turn mower, the power output is a vital factor that affects its ability for cutting grass and tackling any terrain.
Electric mowers contain high-performance brushless motors which provide a maximum power output of 42HP. This range ensures one finds exactly what they need in regards to lawn care.
Motor technology also plays an imperative role in determining performance qualities of electric zero turn models, with brushless being well known as energy efficient and requiring minimal maintenance.
By selecting such advanced motor systems you will achieve increased productivity from your newly purchased electricity powered machine!
Energy Efficiency and Environment Impact
Electric zero turn mowers are a great choice for those looking to reduce their environmental impact and energy consumption.
Models like the EGO Power+ ZT5207L 52-Inch Z6 and Ryobi 80V RYRM8034 54-Inch boast long battery life as well as impressive energy efficiency, allowing you to tackle large areas with ease while keeping costs down.
With electric zero turn models being an eco-friendly option due to low emissions levels, they also offer superior performance compared to other types of lawn care machinery.
Not only will it provide better results faster, but using them is much easier than manual or gas powered versions too!
Overall, investing in an electric zero turn mower offers numerous advantages that are hard to ignore, from improved sustainability goals through reduced energy use right up to comfort during operation along with cost savings over time thanks to its efficient motor technology.
Noise Levels and Vibration
Electric zero turn mowers are a great option due to their lower noise levels (from 70dB up to 90 dB) and less vibration compared to gas-powered models.
This makes the experience of using them far more pleasant, especially for those living in residential settings who want peace and quiet.
Selecting one with low noise production also contributes positively towards creating an environment which is quieter all around – not only do you benefit from this, but so too will anyone else in the vicinity!
Tips for Proper Maintenance and Care of Electric Zero Turn Mowers
Proper care and upkeep of your electric zero turn mower is necessary to maximize its performance and life span. This encompasses battery maintenance, blade servicing, cleaning it regularly as well as preparing the device for storage during seasonal changes.
By adhering to these points, one can keep their zero turn machine running efficiently over an extended period of time.
Battery Care and Storage
It's essential to follow the correct maintenance and storage protocols for your electric zero-turn mower battery in order to obtain optimum performance and extended life.
To ensure sufficient power, it is recommended that you keep an additional battery on hand at all times. During summer months, charge the battery a minimum of once per month and store it somewhere cool and dry.
Keeping its charge level around 40 percent will help preserve maximum efficacy throughout time. Taking care of your machine's energy source can guarantee quality results while making sure nothing interrupts progress along the way!
Cleaning and Blade Maintenance
After each use of your electric zero-turn mower, it's important to clean and inspect the blades. Clear out any wet grass clippings, dirt or other debris that has collected in the cutting deck as these items can cause corrosion damage.
Check for sharpness regularly so you won't experience an uneven cut with potentially destructive effects on your lawn.
When properly maintained by cleaning and blade maintenance, you will achieve greater efficiency from your electric zero turn mower!
Seasonal Storage and Preparation
To keep your electric zero turn mower in peak condition, you should follow different preparation steps according to the season.
Before putting it away for winter, make sure that it is thoroughly cleaned and have its battery removed from the unit before storing somewhere dry and cool.
For summer use of your electric zero-turn mower, ensure each time prior use is inspected for potential damages or loose parts as well as checking blades are sharpened adequately and fasten them securely.
Taking these seasonal maintenance tips into consideration will lead to lasting optimal performance throughout every year with this type of lawnmover.
Accessories and Attachments for Electric Zero Turn Mowers
Additional tools for your electric zero-turn mower will maximize its functionality and simplify lawn maintenance. These accessories include mulching kits, baggers, snow removal attachments, as well as extra batteries and chargers.
Investing in these items can give you a great return by expanding the capabilities of your zero turn appliance even further.
Mulching Kits and Baggers
Electric zero turn mowers are often equipped with mulching kits and baggers to improve the aesthetics of lawns, while also contributing towards a healthier yard.
The finely cut clippings from these attachments can act as natural fertilizer for your grass, while bagging collects them for convenient disposal.
The benefits don't stop at improved looks. Regular use of these appliances can help keep soil moisture levels consistent and reduce weed growth by promoting strong root development.
Utilizing this system promotes healthy turf, which reduces disease spread in gardens too!
All things considered, it's easy to see why people like to make use of such accessories when using their electric zero-turn mower or other types of mower, they result in beautiful yards that stay healthier over time!
Extra Batteries and Chargers
For those with an electric zero turn mower, having extra batteries and chargers can be a smart decision for improving the entire experience.
Factors like battery life, charging time and compatibility to your specific model should all be considered when selecting additional parts.
This will enable you to continue using the machine without any interruption or delays in completing tasks around your lawns- big or small!
Investing in extras helps ensure that you're making full use of what this powerful machinery has on offer. Guaranteeing effortless performance from start to finish.
Electric Zero Turn Mower Safety Tips
When using an electric zero turn mower, safety should always be the first priority. To make sure that you and everyone else avoid the danger of zero turn mowers while operating this powerful machinery.
Remember to wear appropriate protective gear, obey all instructions concerning operation protocols and take advantage of emergency shut-off features if necessary.
Taking time for familiarization with its features can help prevent any potential hazards and guarantee a secure but also enjoyable experience when maintaining your lawn.
Personal Protective Equipment (PPE)
It is of utmost importance to wear the right type of protective gear (PPE) when operating an electric zero turn mower, since it helps avoid any potential harm.
Suitable clothing should be worn while using one such as long trousers and closed-toe shoes. Safety glasses, hearing protection, a helmet, work boots and gloves are musts for complete security.
Wearing this necessary PPE can reduce chances of injury during use whilst guaranteeing a safe but comfortable operation with your electric zero turn mower always coming first in mind.
Safe Operating Procedures
When operating your electric zero turn mower, you should always wear the appropriate PPE and follow safe operating procedures.
Be sure to thoroughly read the operator's manual for this particular type of machine, pay attention to all manufacturer instructions and avoid use on inclines or in wet conditions.
Make regular inspections of it before use so that any potential damage can be spotted and rectified. Check if blades are sharpened correctly at each run too!
All these precautions will help keep incidents from occurring with an electric zero-turn mower when used properly.
Regular maintenance such as mentioned here is crucial for efficient performance – ensuring that your machine remains up-to-date helps protect its longevity over time also!
Emergency Shut-off Features
Safety components such as a kill switch, or an automatic cut-off if the operator leaves their seat are integral features of electric zero turn mowers to ensure emergency shut off.
It is essential for operators of these machines to understand and use these safety measures in order to guarantee a secure experience when using them.
In any situation that might lead to potential danger, having access to rapidly power down your electric zero turn can help reduce hazards and injuries caused by accidents.
Summary
When considering an electric zero turn mower, there are certain features to consider such as battery capacity and runtime, deck size and cutting width for optimal performance.
Comfortability along with ease of use should be taken into account in order to guarantee a successful lawn-maintaining experience.
Safety is also vital, making sure that the chosen electric zero turn mower can deliver results while keeping you safe from any potential harm or accidents.
Investing in one will not only make your garden look well groomed, but offer benefits when it comes down to eco-friendliness. All these elements must work harmoniously so that no detail gets missed!
Why you should trust us
There are a lot of different lawn mowers on the market, and it can be tough to know which one is right for you. 
Senior staff writer Zane Williams has done the homework and spent over 100 hours researching different types of mowers and talking to experts in the field like Justin Watkins of Earth Tones Landscaping. 
And we've put together this guide to help you make an informed decision about which one is right for you.
We only recommend products that we believe in and that we think will deliver value for money. 
We also test each of the mowers ourselves before giving our final verdict – so you can rest assured that they meet our high standards. 
Our goal is to help you find a lawn mower that suits your needs, budget, and lifestyle so that you can enjoy your backyard space worry-free.
FAQs (Frequently Asked Questions Best Electric Zero Turn Mower)
How long will an electric zero turn mower last?
For optimal performance and longevity, a zero turn mower that is well maintained can provide service for up to 10 years. Electric zero turns need special attention in terms of care in order to ensure they stay running at their peak ability. Consistent maintenance will be key if you want your electric mower's full lifespan potential realized.