Maintaining a pristine 4-acre lawn can be challenging, but with the right zero-turn mower, it becomes a breeze. In this guide, we've compiled a list of the top zero-turn mowers tailored for 4-acre properties, combining power, speed, and maneuverability.
We'll explore their features, performance, and ease of use, helping you make an informed decision when choosing your ideal lawn care companion. Embrace the ultimate mowing experience with our selection of the best zero turn mower for 4 acres.
Zero Turn Mowers For 4 Acres Quick Summary
For the best results, get a mower with at least 20–25 horsepower.
Choose a cutting deck with a 42–60-inch width to mow more land in less time.
Invest in a mower with a strong frame, long-lasting components, and premium craftsmanship for enduring performance.
To lessen tiredness, look for an ergonomic design with elements like a high-back seat, armrests, and vibration dampening.
If you need enough power, think about a mower with a gas or diesel engine. If you value the environment, consider an electric mower.
    
Our Top Picks

John Deere Z530R 60 in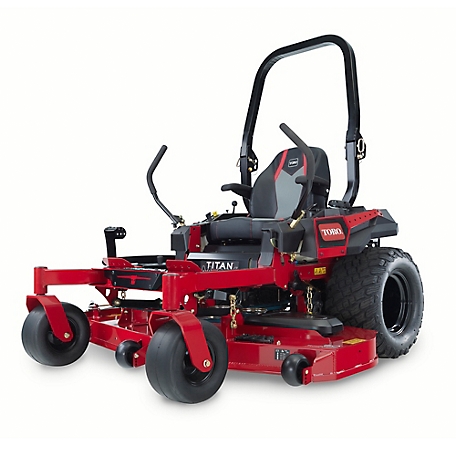 Toro  60 in. 26 HP Titan MAX
Husqvarna Z254F
Next Best Option For 4 Acres
How We Chose the Best Zero-Turn Mowers for 4 Acres
Choosing the best zero-turn mowers for 4 acres requires a nuanced approach, taking into consideration factors such as reliability, speed, durability, and efficiency.
To find these high-quality picks tailored to homeowners' needs, we scoured the internet, focusing on medium-to-large-sized mowers that provide excellent power while maintaining the right-sized combination of features.
Our search led us to six market-leading brands offering industry-leading performance with their lineup of versatile models featuring 60-inch blade decks and robust 24-hp engines designed specifically for large-scale lawn care tasks.
These prestigious manufacturers offer products across varying price points – from value-priced options suitable for those looking at cost-effective solutions but may compromise in terms of comfort or end-use efficiency.
Up to more premium offerings that combine all elements, including higher-speed capabilities together with ease of operation.
Making them an ideal pick among our suggestions list, catering towards different budgets without sacrificing core principles like dependability or manufacturing.
Quality standards associated within this niche segment so anyone can enjoy knowing they are getting exceptional machinery suited perfectly fit
1. John Deere Z530R 60 in
The John Deere Z530R 60-inch zero-turn mower stands out as a robust and efficient machine, staying true to the brand's reputation for quality performance.
With its formidable cutting deck made from 10-gauge steel and equipped with a 60-inch triple-blade system, this sturdy mower is driven by an impressive branded Kawasaki V-twin 24-hp engine that delivers optimum results.
Weighing in at around 842 pounds, it features large rear wheels measuring about 23 inches along with adjustable cutting height ranges between1-4-inches providing versatility across different types of terrains, although ideally suited for mostly flat terrain.
Aside from these core aspects where the Z530R's performance shines through, it also boasts several additional features like under-seat storage compartments designed into the sleek design paired with practicality.
A fuel tank capable of holding up-to-4 gallons complete with low-fuel-warning-light ensuring uninterrupted operation during those long working hours!
Safety remains paramount evident by the incorporation of retractable seat belts accompanied by folding roll guards to comply-ahead-of-the curve when it comes to safety standards within industries today.
In addition, technological enhancements are thrown: LED headlights improve night-time usage while precision meets comfort via foot-operated-deck-lift systems all structured upon.
Ergonomic seating-base 22-inch cut-and-sewn seats guarantee cushioned riding environments complemented-perfectly though-added cup holders, proving that work can be meticulously comfortable over extended periods too!
Pros    
Fast mowing speed for effective cutting: 9 mph maximum forward speed.
A clean, even cut is made across the 60-inch cutting deck thanks to the three blades.
Longer mowing sessions without refueling are possible thanks to the 4.5-gallon fuel tank.
Cons    
Noise: It has the potential to be noisier than electric mowers, which may worry some users.
There are only a few optional attachments available, and those that might be brand-specific and pricey.
2. Toro  60 in. 26 HP Titan MAX
The Toro 60 in. 26 HP Titan MAX is a powerhouse of a riding lawn mower, designed to tackle even the most demanding large lawn care tasks with ease and efficiency.
With its impressive combination of fast mowing capabilities, user-friendly controls, comfortable seat, and durable components, this commercial-grade machine can handle vast residential or commercial properties without breaking a sweat.
The robust frame ensures longevity while providing superior user comfort for extended periods of use thanks to its well-padded cushioning system on the chair – perfect when you have acres ahead!
Additional features, including adjustable cutting heights, create tailored results irrespective; offering an efficient choice that will save time as opposed one size fits all solutions elsewhere available today
Pros    
Commercial-grade hydraulics: Ensures power and smooth operation.
High-back seats with armrests give the operator greater comfort during lengthy mowing sessions.
Accessible components for convenient maintenance.
3-year/300-hour limited warranty: Offers security and assurance.
Cons    
Heavier than some models, which might make it harder to maneuver over rough ground.
Has no headlights built into the vehicle, which could reduce visibility in low-light situations.
A higher price in comparison to some market rivals.
3. Husqvarna Z254F
The Husqvarna Z254F is a top-of-the-line lawn mower that boasts power, precision, and comfort. This cutting machine features a 54-inch fabricated steel deck with an efficient three-blade design for pristine cut jobs on any terrain.
Powered by a high-performance 26HP Kohler 7000 series V-Twin engine, the Z254F has an impressive fuel capacity of up to 747cc to tackle large lawns easily without constant refueling stops.
One of the best Husqvarna mowers in its class, this riding lawn mower comes equipped with armrests and headlights for better visibility during night-time mowing sessions as well as providing riders with ultimate comfort throughout their task.
Moreover, it incorporates fast speeds thanks to its hydrostatic drive system while delivering excellent maneuverability through superior zero-turn capabilities.
Built not only for performance but also durability, fabricating from robust materials ensures long-lasting use even under harsh conditions or frequently-changing environments.
Making it an ideal choice amongst both amateur gardeners seeking tools they can depend upon alongside professional teams requiring reliable equipment day after day.
Crucially reducing downtime between uses whilst ensuring costs stay low over time compared traditional alternatives available within the marketplace today.
Pros    
Performance is reliable and efficient with the 26 HP Kohler 7000 series V-Twin engine.
Grass-cutting deck with three blades: Cuts the 54-inch cutting deck evenly.
Fabricated steel: Lasts long.
An electric clutch allows for smooth blade engagement.
Cons    
California emissions laws prohibit this model. Californians cannot buy this model.
lacks half-inch cutting height adjustments: less accurate than competitors.
4. Bad Boy ZT Elite 60 in. Zero-Turn Mower
The Bad Boy ZT Elite 60 in. Zero-Turn Mower is a robust and powerful machine designed to provide superior performance on various terrains with ease and comfort. This impressive mower features an industrial-strength.
Commercial-grade hydraulic system powered by a mighty 26-hp Kohler engine that sets it apart from comparable models.
Standing firm at an astonishing weight of 841 pounds, this beast boasts thicker steel construction within its solid framework, complemented by the durable 7-gauge steel deck for long-lasting usage under challenging environments.
One significant aspect of the ZT Elite's design includes its efficient fuel management through its enormous tank capacity of holding up to whopping 6.5 gallons of gas.
Ensuring less time is spent refueling over extensive mowing sessions! The adjustable heights provided range between 1 .5 inches right up until 4 .5 inches.
Handled effortlessly using their expertly crafted inch-deck mechanism results lesser hassle during operation according to different terrain requirements, which further enhances operator experience significantly.
To add more notable features to the lineup list, we have independent front-suspension technology that allows smoother transition while handling rough surfaces or uneven ground conditions.
Creating a comfortable ride altogether without compromising quality cut grass level achieved thanks to increased traction given sizable 22-inch tires.
Additionally, equipped 18-inch high seat armrests allow optimal control and convenience overall, giving pure satisfaction job well done no matter how tough circumstances may appear beforehand.
So if you're searching for unparalleled power alongside faultless precision combined with ultimate riding gratification, look consider investing remarkable masterpiece engineering marvel that truly deserves spot amongst esteemed collection equipment choose wisely today will thank tomorrow happy trails ahead!
Pros    
Most residential properties can mow at 7 mph.
Three blades cut the 60-inch deck evenly.
Durable, heavy-duty 7-gauge steel deck.
6.5-gallon fuel tank: This mower can mow for longer.
Cons    
7 mph top speed may slow mowing.
fewer comfort features: lacks armrests and a high-back seat.
5. Ariens IKON XD-52 23HP Kohler Zero Turn Lawn Mower
The Ariens IKON XD-52 23HP Kohler Zero Turn Lawn Mower is an innovative, top-of-the-line solution for all your mowing needs.
Its powerful twin-cylinder engine and impressive 725cc capacity of the 23 HP Kohler 7000 series engine ensure extra power and efficiency when tackling even the toughest lawn-care tasks.
This mower's zero-turn design, combined with its hydrostatic EZT transmission system, guarantees seamless maneuverability while providing ease of use to riders across various mowing conditions.
One notable feature that sets this mower apart from others in its class is a spacious inch grass-mowing deck with three fabricated steel blades that provide precise cutting results every time you take it out on your lawn.
In addition to these remarkable features under the hood, What truly makes this product stand out is exceptional user experience.
Enhancing factors such as large tires designed specifically to keep their lawnmower stable through varying terrains they encounter during use – ensuring optimal performance rain or shine!
Moreover, Ariens has gone above and beyond by designing one outstandingly comfortable riding seat: featuring direct control over levers so users can quickly adjust speed levels.
Whilst being seated comfortably surrounded by high-quality plush padding & armrests offering maximum support after long hours spent behind those controls, we know how tedious yard work gets sometimes
Pros    
52-inch cutting deck is large, allowing for quicker mowing and better coverage.
The controls are intuitive, moving and use easy.
Large tires: Provides better stability and traction on a variety of surfaces.
Cons    
Has no built-in headlights, which could reduce visibility in dimly lit areas.
No steering wheel; lap bars are used instead, which may take some getting used to for some users.
Design and Size    
Design and size play a significant role in the efficiency and maneuverability of lawn mowers, particularly when it comes to zero-turn mowers.
These large machines offer users an unparalleled level of control compared to regular lawn mowers, giving the rider better control over its movements while covering larger areas for more efficient job completion.
One defining feature that sets these powerful mower designs apart from others is their tight turning radius—zero degrees—which helps achieve a pristine cut across your entire lawn without compromising speed or precision.
However, there are some tradeoffs with this type of design: foremost among them is weight. Zero-turn mowers tend to be heavy due to their robust construction and advanced features.
However, most people can still manage loading and unloading without too much difficulty during delivery or transportation if needed despite being heavier than traditional lawnmower options on the market today.
Ultimately though—for those who prioritize effectiveness above all else—the additional heft will likely not deter potential customers seeking top-tier performance outpaced only by professional landscaping services themselves!
Engine Power    
Engine power and type play a crucial role in the performance of lawn mowers, especially when it comes to zero-turn mowers designed for larger properties.
While battery-powered alternatives exist, gasoline engines remain the preferred choice due to their increased horsepower (usually between 22-27 hp) and adequate size required for efficient-cut mower deck sizes beyond 42 inches.
Gasoline-powered zero-turn mowers can handle up to two acres or more with ease and provide faster speeds than traditional lawn tractors.
These reach an average maximum speed of roughly eight miles per hour compared with typical residential electric models that often only accommodate areas "up to two acres" at approximately five miles per hour.
In addition, gas engine-powered zero-turn mowers feature cylinder gas engines providing sufficient drive wheel capabilities as well as better maneuverability through multiple blades arrangements.
Making them suitable options not just for State-of-the-art technology, such as battery runtime advancements continue being developed but cannot yet match gasoline's capacity on large-scale lawns.
Where recharging may be necessary mid-mow. State-of-the-art facilities like golf courses but also high-end private homes boast extensive gardens requiring seamless upkeep.
Deck Size    
Cutting Deck is an essential aspect of any lawn mower, primarily focusing on factors such as welding and construction techniques, adjustability options for different terrains, and providing suitable mulching capabilities.
A critical decision that most property owners with 5 acres or more have to make is opting between a wider deck size like the 60-inch mower deck or smaller alternatives around 54 inches best suited for undulating terrain having narrow passages and obstructions.
Fabricated decks are constructed by welding individual pieces of steel together offering superior rigidity compared to stamped decks formed from a single sheet allowing better airflow resulting in cleaner cuts due to its shallower design.
Deeper deck systems can provide greater precision-cut regardless if it's fabricated or stamped version.
The number of blades serves multiple purposes, including overall cutting efficiency and the risk of clogging. It also determines the available height adjustment options, providing users maximum flexibility when working on various grass types and growing conditions.
These conditions require specific attention areas, such as mulching capabilities or bagging capacity, which are essential for making a better choice.
Lawnmowers are mainly designed for longer blades, but it's important to consider that a wider deck and greater overall flexibility are closely associated with the lawnmower's capabilities.
This ensures optimal performance on different types of grasses, even in undulating areas with obstructing factors.
Therefore, deciding on the right cutting deck requires a thorough analysis and consideration of individual needs based on each feature pertaining to the lawnmower.
Cutting Size    
Cutting size is an essential aspect to consider when selecting a lawn mower for maintaining the perfect grass height in your yard.
Lawn mowers with adjustable heights offer greater customizations and ensure you have control over the cut of your grass, catering to different preferences or turf types.
A good-quality lawnmower should allow incremental height adjustments so you can choose between varying minimum cutting lengths, such as 4mm or more, according to your needs.
Many lawn mower models are designed to feature these customizable settings while still achieving efficient performance by testers using their machines on diverse landscapes.
It's crucial not only to search for a powerful machine but also to pay attention that it offers multiple options like various height settings; this way, you avoid trimming down too much greenery from around corners without sacrificing overall functionality.
Transmission    
The transmission system in an Ariens zero-turn mower plays a crucial role in the overall performance and efficiency of your mowing experience.
A high-quality transmission not only enhances the maintenance, mobility, and precision of your machine but also helps you save time while handling various lawn care tasks with ease.
Amongst different categories such as manual, automatic, or hydrostatic transmissions available for these machines, we highly recommend opting for a hydrostatic mowing engine like that found on Kawasaki FR691 Series Ariens 915223 IKON-X 52 Zero Turn Mower.
Boasting its impressive horsepower capacity (23 hp), this powerful drive system allows easy operation combined with faster response times, so it feels almost as if your mower is driving itself!
The innovative design behind this advanced technology ensures minimal wear-and-tear on parts which ultimately results in lower maintenance requirements over time.
Making it well worth investing in when considering futureproofing what may become one's go-to equipment during summer months from hereon out!
Fuel Capacity    
Fuel capacity is a critical factor to consider when selecting an engine for your property, as it directly affects the performance and efficiency of the machine.
A large fuel tank with increased fuel capacity allows longer runtimes while tackling extensive areas like long grass covering 5 acres or more.
This higher number in terms of engine capacity contributes not only to optimal usage but also ensures expert pros can handle larger properties without frequent refueling interruptions.
Therefore, investing in an engine that boasts powerful performance and substantial fuel volume would be ideal for managing vast landscapes efficiently.
Moreover, coupling this tremendous energy potential with a large cutting capability further enhances its effectiveness on sizable fields requiring prolonged periods of operation.
Thus making such engines highly recommended by qualified professionals who value reliability and productivity above all else
Safety Features    
Safety features are essential in zero turn mowers to ensure a secure and comfortable experience while maintaining your lawn.
Despite sitting at an ample distance from the grass and blades, it is crucial for these machines to possess adequate safety attributes, such as bumper roller systems that enhance turf protection.
The Ariens Edge 52 inches mower also comes equipped with rollover protection systems (ROPS), ensuring passengers remain securely seated even if the machine tips or flips over during usage.
This riding mower offers superior control through lap bars rather than traditional steering wheels, allowing riders up to 6.5 mph max speed precision movement on their lawns without compromising stability.
One vital element of any good lawn mower design includes an easy-to-use emergency stop or brake function so users can quickly react in case of any sudden situation that occurs while operating at high speeds, like 6-5 miles per hour.
In addition, our experts highly recommend seats that provide excellent waist support – ideally having soft cushioning along backrests paired with vibration dampeners incorporated into the structure itself.
This helps make certain user stays safe throughout the entire process cutting down unwanted strains caused by extended periods spent driving around outdoor spaces.
Moreover, armrests offer added comfort levels which professionals often encounter when testing various riding mower options available market nowadays.
Our Verdict    
Our Verdict on the best zero-turn mowers for 4 acres is a result of extensive research and analysis, taking into consideration crucial factors like safety features, level of comfort, traction capability and power.
We have come to recommend two top-notch legacy brands – John Deere Z530R and heavier Toro Titan MAX – known for their high-quality products with an impressive blend of speed and reliability.
The John Deere Z530R excels in providing superior cuts while ensuring user comfort; it makes an ideal choice when opting to maintain your acreage regularly.
On the other hand, if you're dealing with rolling terrain or slopes as part of your property management tasks, look no further than the Toro Titan MAX, which not only equips users appropriately for such landscapes.
Also offers remarkable safety aspects even during challenging conditions due to its enhanced traction capabilities alongside maintaining desired levels of coziness whilst mowing across those vast five-acre tracts efficiently.
In conclusion: Both these esteemed options cater to perfectly well-suited recommendations that ensure our verdict encompasses every possible aspect one expects from reliable zero-turn mower manufacturers.
Having established extensive reputations within this domain over many years now, making them excellent investment choices indeed!
Check Out Our Similar Reviews
Why Should You Trust Us
There are a lot of different lawn mowers on the market, and it can be tough to know which one is right for you. 
Senior staff writer Zane Williams has done the homework and spent over 100 hours researching different types of mowers and talking to experts in the field like Justin Watkins of Earth Tones Landscaping. 
And we've put together this guide to help you make an informed decision about which one is right for you.
We only recommend products that we believe in and that we think will deliver value for money. 
We also test each of the mowers ourselves before giving our final verdict – so you can rest assured that they meet our high standards. 
Our goal is to help you find a lawn mower that suits your needs, budget, and lifestyle so that you can enjoy your backyard space worry-free.
FAQ's (Frequently Asked Questions Best Zero Turn Mower for 4 Acres)
How Long Does It Take To Mow 4 Acres?
The time it takes to mow 4 acres will depend on the speed and cutting width of your mower. With a zero-turn mower that has an average speed of 6 mph and a 60-inch cutting width, it would take about 1.8 hours under ideal conditions. However, this time can vary depending on factors such as the terrain, the density of the grass
What is the estimated fuel consumption or battery life for a zero-turn mower when mowing a 4-acre area?
For a gas-powered zero-turn mower, fuel consumption can vary widely depending on the model, engine size, and mowing conditions. On average, a zero-turn mower might use between 1.5 to 2.5 gallons of fuel per hour. So, for a 4-acre area that takes approximately 1.8 hours to mow, you could expect to use roughly 2.7 to 4.5 gallons of fuel. For an electric zero-turn mower, battery life can depend on the model and conditions as well, but typically you might expect between 2 to 4 hours of runtime on a full charge. This means you should be able to mow a 4-acre property on a single charge, but it may be close in some cases.
What are the key features to look for in a zero-turn mower when considering it for maintaining a 4-acre property?
When considering a zero-turn mower for a 4-acre property, you should look for:
Engine Power: A strong engine will make the mowing job faster and more efficient.
Cutting Width: A wider cutting deck allows you to mow more grass in a single pass, reducing mowing time.
Fuel Capacity/Battery Life: Larger fuel capacity or longer battery life will mean fewer stops to refuel or recharge.
Durability: Opt for a model built with sturdy materials for regular use.
Comfort: Features like a comfortable seat, good ergonomics, and easy-to-use controls are important for longer mowing jobs.
Terrain Capability: If your property is hilly or uneven, you'll need a mower with good stability and possibly four-wheel drive.
How much time can you expect to save on mowing a 4-acre lawn with a zero-turn mower compared to a traditional riding mower?
Zero-turn mowers are generally faster and more efficient than traditional riding mowers due to their ability to turn on a dime and cut closely around obstacles. If a traditional riding mower takes about 3.2 hours to mow 4 acres, a zero-turn mower could do the job in about half the time, saving you approximately 1.4 to 1.6 hours. However, this can vary based on the specific models being compared and the conditions of the property.
What is the average lifespan of a zero-turn mower when used regularly on a 4-acre property?
The lifespan of a zero-turn mower can vary greatly depending on the quality of the mower, how it's used, and how well it's maintained. On average, with regular use and proper maintenance, a high-quality zero-turn mower might last anywhere from 7 to 10 years. Keep in mind that individual components may need to be replaced over time, including the blades, belts, and tires.