As an experienced homeowner, I understand how important it is to have a reliable and consistent mower that does not break the bank.
That's why when looking for an affordable residential zero-turn lawnmower in today's market, my top choice has consistently been the Husqvarna Z242f. This powerful product from one of the most trusted brands provides essential features such as reliability and critical components purchasing options at an unbeatable price point!
This Husqvarna Z242F Reviews you will learn all there is know about this model including its main details so that you can make a well informed purchase decision on whether or not buying it could be right thing for your yardwork needs.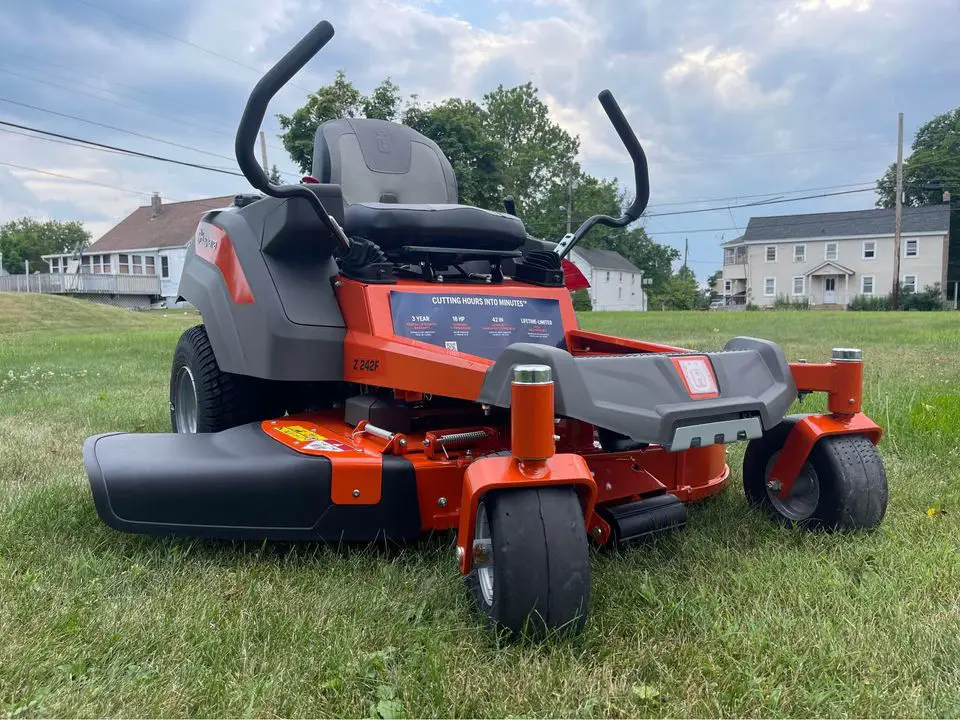 husqvarna z242f zero turn mower reviews
When it comes to great machinery for residential and commercial use, Husqvarna is one of the most respected names in the industry.
Known for producing high quality lawn care tools such as chainsaws and push mowers, they also have a huge presence when it comes to bigger boy commercial lawn mowers.
I recently used a Husqvarna Z242F zero turn mower at my property; this was an absolute unit that handled everything with ease – from trimming around delicate trees to cutting thick grass!
Its engine had plenty of power too making sure even heavy duty jobs were done quickly and efficiently; no wonder why so many parks, golf courses and construction sites rely on these big machines by Husqvana!
Overview of Specifications
Motor/engine manufacturer: Kawasaki
Engine name: FR Series
Power output: 18.0 hp
Transmission type: Hydrostatic
Transmission manufacturer: Hydro-Gear
Transmission model: ZT-2200
Speed forward max: 6.5 mph
Speed forward min: 0 mph
Engine cooling: Air
Air filter type: Auto-type Paper
Power/fuel type: Gasoline
Cutting width: 42 in
Cutting deck material: Steel
Deck thickness: 10 gauge
Cutting height steps: 6
Blade engagement: Electric clutch
Clutch rating: 87 ft.lb
Blades: 2 pcs
Weight: 551 lbs
Engine Power
Running my own lawn, I can certainly attest to the importance of a powerful engine. The Husqvarna Z242F sports an impressive 18 horsepower Kawasaki engine that gives it massive power and speed over other typical mowers out there.
With its 603 cc size, this zero-turn mower has no issue in covering up to 2 acres per hour which is quite frankly amazing given how long some jobs might take me otherwise!
It's easy starting Ready Start ignition system doesn't hurt either when trying to get going quickly on those hot summer days.
As for safety though with such high speeds (7 miles/hour) around trees or rocks you want something reliable like what Husqvarna provides.
Knowing your investment won't be damaged due to any unexpected interruptions during work hours ensures peace of mind while taking care of business each weekend.
Ergonomic Control Panel
I was really impressed with the control panel of the Husqvarna Z242F Zero Turn Mower. Having all of my mowing controls placed conveniently at my fingertips made life a lot easier, not to mention safer.
It has an automatic parking brake system and ergonomic steering levers that activate or deactivate in response to how I'm turning them.
Additionally, there's an hour meter for keeping track of time spent doing maintenance tasks on lawns!
Not only does this make mowing more efficient; but also provides peace-of-mind when navigating tight areas such as around trees and fences – sans efforting having to manually set the parking brakes like other brands off riding lawnmowers may require from their operators.
Finally being able put these curious things out of mind can be nothing less than liberating!
Cutting Deck
As a mower operator, I understand the importance of having a reliable cutting deck. Husqvarna Z242F zero-turn mowers have just what it takes, thanks to its 10-gauge steel construction and two blades designed for electric clutch engagement.
This allows users like me better control over when the unit is running or not. With additional layers of welded reinforcement in place for increased durability against harsh lawn conditions, these features make sure that your livespan behind this machine will be as long as possible!
The fact that you can count on 42 inches -three and half feet- worth of cut grass with every pass makes choosing between different sized decks easier too; now all you need to do is take into account how much land you want covered by considering things such as size and power output .
Cutting Capacity and Quality
When it comes to cutting capacity and quality, I make sure that the mower is up to par.
A 42-inch "Clear Cut" deck offers powerful performance over 2 acres of land while going 6.5 mph in a single pass; however opting for a larger 60 inch deck can add an additional foot and half with each pass saving time as well as money.
Through test drives I have also discovered that this unit has high speed capability which makes maneuvering around trees at close proximity achievable without having to go slow like a snail's pace.
Enabling me pinpoint precision rows everytime making quick work of large swatches of grass within minutes rather than hours by reducing my passes from handfuls down too just one or two hour long task depending on how much needs cuttting!
Transmission
Transmission is an important component of lawn machines that allow them to function efficiently. The Z242f comes with a hydrostatic transmission, which has been proven to be reliable and extend the life of mowers for greater longevity.
This type of fluid-based system makes use of special components like hydro-gear drive systems in order to easily regulate power from engine torque as it moves through its units before departing out the back via a blade on deck making cutting easier and faster.
Proper maintenance can ensure your machine remains operational by keeping fluids at their optimal levels while helping you get more bang for your buck when entering into long term relationships with powerful mower models such as this one!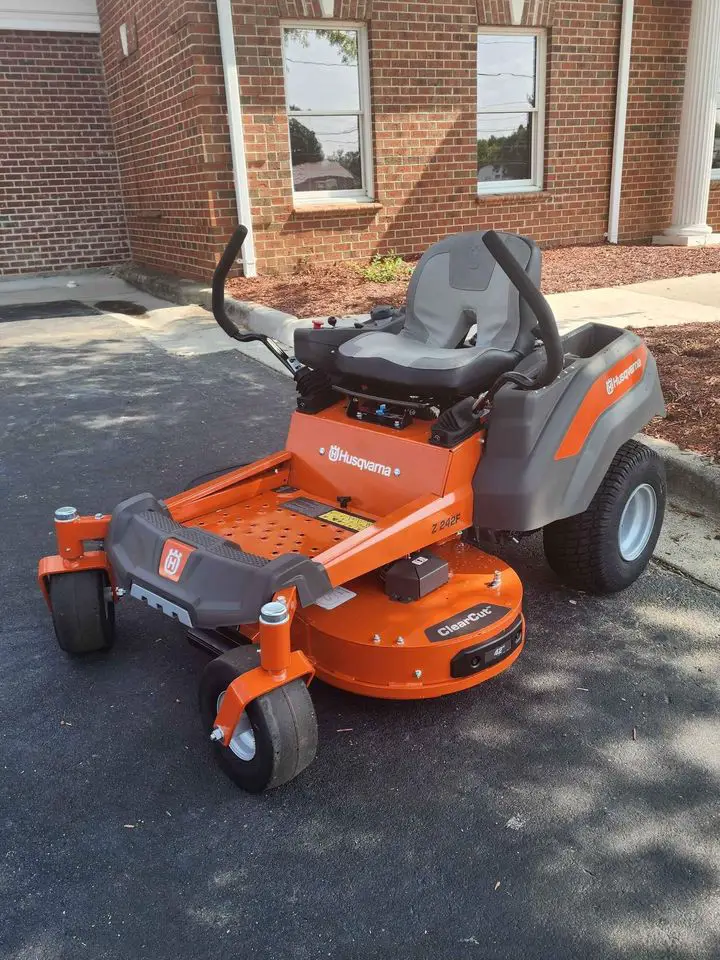 Performance
I was amazed at the performance of this Husqvarna lawn mower zero turn. It is powered by a combination of Kawasaki engine and Hydro-gear transmissions, giving it massive power to enable smooth cutting operations.
The user interface is particularly noteworthy as even newbies can easily access the control panel thanks to its design that makes all features accessible.
I believe mowing tasks will be made easier with this Husqvarna machine due to its efficiency in providing consistent results across different applications chosen for use with it.
Ease of Use
The ease of use I have experienced with the Husqvarna Z242f zero-turn mower has been amazing. After struggling for long hours trying to maneuver traditional push and ride on mowers, this one was a blessing by comparison.
With its Hydro-Gear hydrostatic transmission, all you need to do is move the levers inward or outward in order join up with the park brake system; it couldn't be easier!
Everything from design ergonomics like that high back seat made specifically to maximize user comfort while still being efficient as well as an accessible control panel make using this model really enjoyable – even after those longer shifts of lawn care work.
The features on board don't stop just there though – maintenance around here won't take much time either thanks to no having all those manual systems in place so often found elsewhere requiring your attention over extended periods.
From YardSimply's many experiences reviewing different Husqvarna models out there globally, I find myself not needing anything else when versatility reigns supreme given my world!
Husqvarna Z242f price and value
When it comes to a powerful zero-turn mower, the Husqvarna Z242f is right up there with the bad boy. I was surprised when I looked at its price because for around $3,000 you can have one of these machines in your home or on your lawn!
That's really great value and cost considering some residential zero turn tractors are expensive but don't offer near as much power.
When it comes time to decide which machine fits my needs best – this will be top of mind due to all things being considered: durability, reliability, price point and performance – making the decision easy that this could be exactly what shoes me well into future projects around my property.
Problems
As a mower owner, I know that problems can arise when operating my Husqvarna products.
Deck issues, blade problems and engine failures are common occurrences and it's important to be aware of the potential for such issues and how best to resolve them.
Depending on the product model, there may be different solutions but luckily our engineers have put together a great guide "husqvarna z242f problems" with lists of known glitches so you'll at least have an idea where to start looking if anything goes wrong!
With this helpful resource in hand I'm confident in smooth performance from my quality equipment every time!
The official review: Husqvarna Z242f zero turn mower
As an avid gardener and lawn mowing enthusiast, I had the chance to review Husqvarna Z242F zero turn mower.
After doing extensive research on this luxurious yet affordable unit, let me tell you that it is worth every penny! With its powerful engine and efficient performance, the sturdy structure of this cutting tool guarantees a plush ride even with excessive use.
The wide cutting deck coupled with precisely designed zero-turn radius enables productive results at a faster pace whether for residential or commercial purposes; which makes it perfect even in large properties where time is scarce like mine.
Besides having smooth operations due to durable components such as transmission assembly parts plus years' assurance from manufacturers who have been creating state-of-the art products since 1689.
Making no issue our team has encountered thus far during tests – are just some points why Husqvarna's top model when talking about all types of Zero Turn Lawn Mowers shall be taken seriously.
By those looking not only into saving money but better investment management while still getting premium quality standards within home improvement projects today!
Why You Should Trust Us
There are a lot of different lawn mowers on the market, and it can be tough to know which one is right for you. 
Senior staff writer Zane Williams has done the homework and spent over 100 hours researching different types of mowers and talking to experts in the field like Justin Watkins of Earth Tones Landscaping. 
And we've put together this guide to help you make an informed decision about which one is right for you.
We only recommend products that we believe in and that we think will deliver value for money. 
We also test each of the mowers ourselves before giving our final verdict – so you can rest assured that they meet our high standards. 
Our goal is to help you find a lawn mower that suits your needs, budget, and lifestyle so that you can enjoy your backyard space worry-free.
FAQ (Frequently Asked Questions Husqvarna Z242F Reviews)
Who is Husqvarna mowers made by?
Husqvarna mowers are made by the Husqvarna Group, a Swedish company that manufactures a variety of outdoor power equipment products.
Is Husqvarna good quality?
Husqvarna is a well-known and trusted brand in the outdoor power equipment industry.
How fast can a zero turn mow 5 acres?
A zero turn mower can mow 5 acres in about 1 hour and 30 minutes.
How often does a zero turn need an oil change?
A zero turn may need an oil change as often as every 50 hours or as little as every 250 hours.
What are the most common problems with zero turn mowers?
The most common problems with zero turn mowers are deck problems, such as deck belts coming off or breaking, and blade problems, such as blades not spinning or not cutting evenly.