Maintaining a vast expanse of lawn on a significant piece of land, such as 10 acres, can be daunting and tiring.
Worry no more; the best zero turn mower for 10 acres could provide an efficient solution to keep your lawn well-groomed without turning it into a tiresome process.
These powerful machines have been specifically designed to tackle large landscapes effortlessly while providing smooth maneuverability around obstacles at every turn.
With high-quality features like user-friendly controls and extra-wide cutting decks, these mowers are capable of maintaining larger acreage in less time.
So that caring for your property is not only manageable but also an enjoyable experience: now there's no need to dread this once-daunting task!
Zero Turn Mowers For 10 Acres Quick Summary
A mower with a wide cutting deck will cover more ground faster. Large areas are best mowed with a 60-inch cutting width.
Consider the mower's engine size and power. Your property requires a powerful engine to cut efficiently.
Choose a mower with a solid cutting deck. A reinforced steel or fabricated deck can handle mowing uneven terrain and last longer.
Choose a mower with variable speed settings to match the terrain and conditions. On larger properties, higher top speeds can boost productivity.
Mowing 10 acres takes time, so choose a seat with enough cushioning and armrests. Check ergonomic controls and essential function accessibility.
Our Top Picks
Husqvarna MZ61
Ariens IKON XD 52
Husqvarna Z254
Next Best Option For 4 Acres
1. Husqvarna MZ61
The Husqvarna MZ61 61 Zero Turn Riding Mower is an exceptional piece of equipment designed for lawn maintenance and achieving great productivity in large spaces.
With its robust, firm-gauge steel frame construction, it offers excellent comfort during use and guarantees exceptional durability even on rough terrains or hilly areas.
Powered by a reliable 27 HP motor, this mower delivers the power needed to cut through grasses efficiently while providing a great riding experience with adjustable deck height options for various cutting heights tailored to your needs.
The precisely crafted mower blade cuts create clean lines across your space, resulting in neat lawns every time you utilize it.
One distinctive feature is that without having any movements from the user's side –you can control all features, including selecting twelve different cutting settings!
Additionally, equipped with a functional nine-bushel bag capable of collecting discarded grass clippings.
Effectively keeping up overall cleanliness around your property makes this machine highly efficient when working more massive yards where maintaining tidiness matters most.
Offer fantastic efficiency coupled together with safety measures aimed towards ensuring a smooth operation throughout usage sessions.
Making them an ideal choice if looking forward to enjoying unmatched performance long run as well as committing proper attention to the care required cultivation of beautiful landscapes surrounding the area.
Pros    
Simple to use
Quick and effective lawnmower
extended warranty
Cons    
Less effective on lawns that are uphill or uneven
2. Ariens IKON-XD 52
Introducing the Ariens IKON XD 23 HP Zero Turn Mower, a state-of-the-art lawnmower designed to handle all your lawn and turf needs with ease.
This powerful mower boasts an impressive 23HP motor, ensuring that it has both outstanding cutting capacity and increased torque for working through thick grasses on up to 10 acres of land.
Its effortless transmission makes operation smooth, while its automatic turn feature allows you to navigate around tight corners without straining yourself.
Perfect for maintaining large golf greens thanks to its wide cutting width of 60″.
The rugged motor is built for longevity as it can withstand extended periods without overheating, increasing the overall lifespan of not just the engine but also this reliable riding mower itself.
Moreover, comfort isn't sacrificed either- take a seat in the ergonomically-designed chair before starting up this fantastic machine so that you can focus on achieving pristine care results across vast expanses in mere minutes!
Experience seamless turf maintenance like never before with Ariens IKON XD's exceptional performance capabilities today!
Pros:    
Equipped with a robust Kawasaki engine for seamless operation
It doesn't rapidly overheat, facilitating longer usage periods
The automated mower design minimizes effort and labor
Cons:    
The mower comes at a high cost
It's not particularly fuel-efficient
3. Husqvarna Z254F 26HP Kohler
The Husqvarna Z254 Zero Turn Riding Mower is an exceptional choice for homeowners and commercial space maintenance.
It offers powerful performance with its 26 HP motor while navigating large residential spaces up to 10 acres.
This durable riding mower boasts a steel frame reinforced by steel stamping that ensures outstanding consistency and reliability in grass-cutting tasks.
Its air-induction technology provides superior cuts even for newbies who need easy control over their mowing skills.
Designed with user comfort in mind, the lawnmower features adjustable cutting height adjustments and a comfortable seat for efficient turf management over extended periods of use.
The spacious fuel tank allows you to cover more ground without interruption while saving on refueling time – essential when maintaining larger properties or working within strict deadlines at commercial sites.
The patented park system introduces automatic activation of brakes upon stopping, providing novices better control during operation whilst promoting enhanced safety overall, as accidents are minimized through this handy feature alone!
Ultimately combining ease of use alongside durability makes it clear why our eye-catching recommendation list has placed the versatile.
Husqvarna Z254 zero-turn riding mower securely into third place among top contenders across categories, including power capabilities maintaining strength throughout years under diverse conditions.
Where width range coverage upward reach potential meet/exceed expectation allowing customers satisfaction guaranteed completion projects shortest possible
Pros    
Simple to use
Quick and effective lawnmower
extended warranty
Cons    
Less effective on lawns that are uphill or uneven
4. Toro  60 in. 26 HP Titan MAX
The Toro 60 in. 26 HP Titan MAX is a powerful and efficient mower designed to provide an exceptional mowing experience for large lawns, commercial properties, and even smaller properties with tight spaces.
With its robust construction featuring a welded steel frame and 10-gauge steel cutting deck, this zero-turn mower ensures maximum durability while quickly tackling the toughest mowing tasks with ease.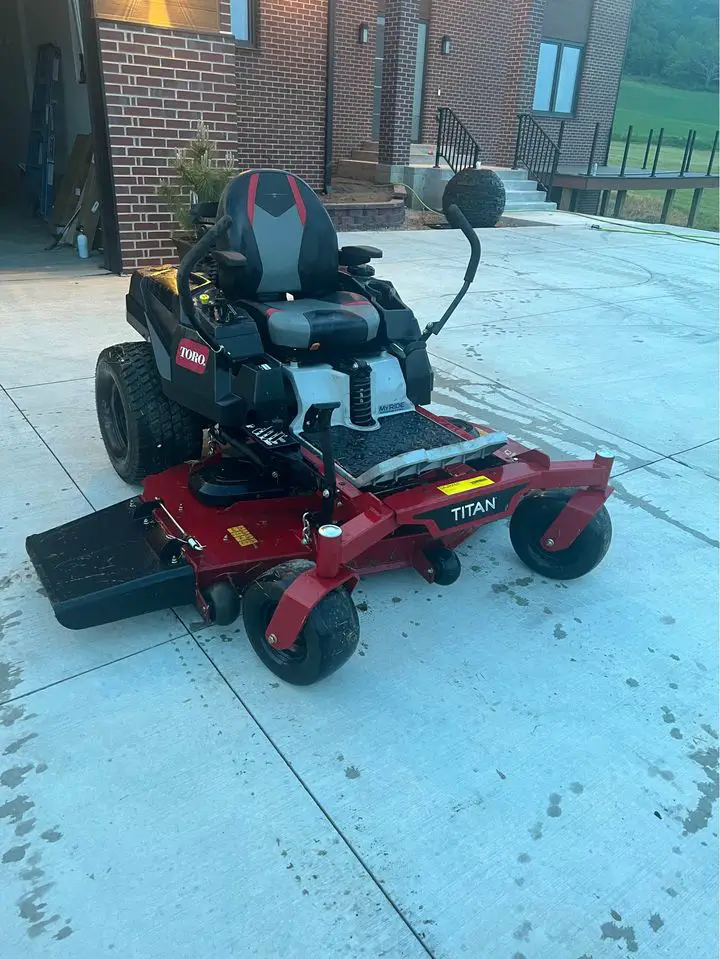 Its standout feature includes a versatile cutting height range from 1.5 to 4.5 inches that allows precise customization of your lawn's appearance according to your preference.
Despite its considerable size and high price point, the Toro Titan MAX offers impressive performance backed by easy-to-use controls combined with comfortable seating arrangements.
Providing you complete control over all your maneuvers around obstacles or confined areas such as tight storage spaces during usage.
In conclusion, those who seek ultimate capability when it comes to their lawn maintenance needs can easily navigate through difficult terrains without compromising on maneuverability.
There may be no better alternative than opting to purchase one of these dependable machines today!
Pros:    
A 26 HP engine is generally powerful and can handle tough mowing conditions.
A well-known and trusted brand in the field of lawn care equipment.
They are built to last, with high-quality components.
Cons:    
Powerful mowers can consume a lot of fuel.
More expensive than other models.
5. Ariens APEX 52 inch 23 HP Lawn Mower
The Ariens Apex 52-inch, 23 HP lawn mower is an industry-leading machine designed to maintain large areas of over 10 acres efficiently.
Equipped with a powerful Kawasaki FR691 V-Twin engine, this heavy-duty mower features all-wheel-drive capabilities and a welded tubular fabricated steel frame that can navigate the roughest terrain with ease.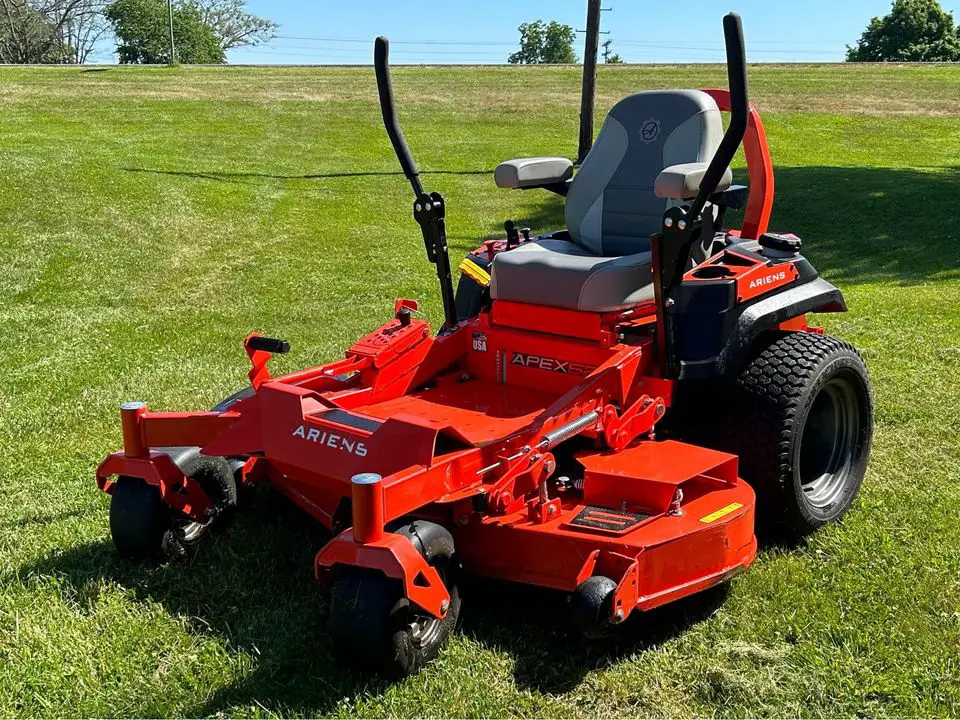 The foot-operated deck-lift system allows for easy adjustments between its available cutting heights ranging from 1.5 inches up to 5 inches while covering a lot of ground in less time due to its impressive inch deck size.
An exceptional level of comfort is ensured by a high-back padded seat accompanied by padded armrests along with self-adjusting belt technology ensuring optimal operator experience even during extended usage hours on stubborn weeds and grasses alike.
It also boasts various optional accessories accommodating personal preferences. Offered alongside ROPS capable design enhancing safety.
Choose Ariens APEX for tackling extensive lawns as they provide upto months/ years warranty, promising reliability through their superior quality products, keeping you worry-free regarding maintaining vast landscapes effectively throughout-the-year
Pros    
Robust and long-lasting
Extremely effective and potent motor
Simple to put together and initiate
Cons    
The vibration during the Power Take-Off (PTO) startup might be quite unsettling.
Factors When Buying The Best Zero-turn Mower For 10 Acres
When searching for the perfect lawnmower to maintain a 10-acre property, it's essential to consider several factors before making your decision.
Whether you're looking at different riding mowers or zero-turn mowers specifically designed for larger properties.
Paying attention to details such as construction quality, cutting width, and maximum speed will help you find the most suitable mower that caters well to both residential and commercial use purposes.
The following guideline aims at providing useful insights on how these elements play an important role in determining performance efficiency when choosing from various size lawn maintenance tools available in today's market.
So let us assist you in climbing out of this deep hole of uncertainty by discussing each aspect of finding the ideal lawnmower tailored perfectly towards maintaining a picturesque 10 acres estate with precision!
Engine Power
When selecting the ideal lawn mower for efficiently mowing 10 acres of land, it is crucial to consider the engine as a key factor.
A powerful and reliable engine ensures that your zero turn mower can effortlessly cut through the grass without causing problems, even in bad weather conditions.
On the other hand, a weak engine might lead to uneven cuts and a poor general appearance of your lawn, as its blades may pull out rather than effectively cutting the grass.
Moreover, having a strong motor makes mowing easy by providing better stability when maneuvering around obstacles or challenging terrain on large acreages such as these.
Therefore, opting for an efficient zero turn mower with an impressive power output not only saves time but also guarantees satisfying results in maintaining lush greenery throughout all seasons.
Making it undoubtedly one of the best products you could invest in to enhance beauty at home while keeping nature healthy!
Height Adjustment
Height adjustment is a crucial feature to consider when selecting the perfect mower for maintaining lawns.
A zero-turn mower with height adjustments ensures efficient and effective mowing, as it allows individuals to customize the cutting length according to their preference or various types of grasses.
Providing a good range of height levels contributes significantly towards achieving level trimming of lawns, which not only enhances its aesthetic appeal but also promotes healthy growth in different kinds of grass species.
In essence, lawn owners should give utmost importance while choosing a mower that offers smooth and effortless height adjustments so that they can achieve immaculate results from their mowings sessions on diverse terrains alike.
Deck
The deck is an essential component of a zero turn mower, designed to ensure optimal performance and durability.
Its wide cutting width allows for efficient grass cutting while the high sides enhance airflow created by the blade rotation, drawing cut grass into the housing and preventing remnants from dispersing.
Decks can be made of various materials such as plastic or metal (aluminum or steel), each with pros and cons in terms of strength, price, and sensitivity to temperature changes like heat and frost.
Plastic cases have gained popularity due to their resistance against aggressive herbal juice corrosion; however, they are more susceptible to mechanical damage resulting from sudden fluctuations in temperature.
Metal decks provide better protection against shock elements but require consistent cleaning after work since the aggressiveness of grass juice leads to an increased risk of rust formation on steel surfaces.
Ultimately choosing between aluminum or steel depends on individual preferences concerning cost-effectiveness versus enhanced durability under heavy loads.
Both options offer commendable load-bearing capabilities that cater well to different respects when it comes time for maintenance tasks involving turning mowers around obstacles during operation.    
Wheels
Wheels play a significant role in the performance and maneuverability of equipment like lawn mowers, carts, and other machinery used on large expanses such as 10-acre properties.
A key feature to pay attention to is the diameter and width of rear wheels versus swivel wheels found on machines such as zero turn mowers with installed structural elements resembling a wheeled cart.
Wider wheels offer better support on various terrains, including waterlogged soil, while preventing unsightly marks caused by narrower alternatives when making turns or navigating through plantations.
Another aspect to consider is choosing an all-wheel-drive model for improved control across different areas within your property's acres.
Even wheel size between front rollers and rear ones ensures smooth operation without compromising their effectiveness despite challenging conditions one might face during tasks.
Involving sizable plots requiring robust tools equipped with advanced features designed specifically around enhancing overall user experience.
Regardless if you're dealing solely with cutting grass uniformly, keeping everything looking pristine throughout every season year after year.
Durability
Durability is an essential factor to consider when choosing equipment and materials, especially for heavy-duty tasks such as mowing.
A machine with good durability exhibits toughness and long-lasting performance, making steel and metal the ideal strong materials used in constructing these machines.
For instance, a zero-turn mower must possess exceptional strength in order not just to withstand prolonged usage but also efficiently manage the power exerted by its robust engine without compromising on functionality or safety features.
Moreover, durable machinery plays a vital role in industries that require high levels of endurance from their assets due, largely because they need them running effectively.
Over longer periods than ordinary devices might be capable of handling, machines like this are typically designed specifically with resilience at heart.
So users can get more work done faster while minimizing maintenance costs involved during any given project's lifecycle along
Fuel Tank Capacity
Fuel capacity plays a crucial role in the efficiency and convenience of operating lawnmowers, especially when maintaining extensive stretches of land.
A lawn mower with a higher gallon fuel capacity can significantly reduce the need for frequent refills, providing an uninterrupted power supply from its gasoline motor.
For instance, selected lawnmowers featuring a 4-gallon fuel tank are capable of mowing over 10 acres without running out of gas – an essential feature that saves both time and effort during lawn maintenance tasks.
Smaller lawn mower fuel tanks may not offer this advantage; however, upgrading to models with greater capacities is always worth considering if your property demands efficient management on larger scales such as those covering more than ten acres.
It's vital to invest in equipment like high-capacity lawnmowers for optimum performance while taking care of vast landscapes.
Choosing options promising reliability will help ensure seamless operations and reduce hassles related to running out of fuel early or struggling due to bad locations -factors ruining the experience altogether.
Residential
Residential zero-turn mowers are designed specifically for homeowners with smaller land parcels, ranging from 1/3 to 4 acres in size.
These residential-type mowers offer a good range of options and the convenience of choosing between gas or electric power sources.
While not as powerful as commercial ones, residential mowers provide sufficient low-powered functions suitable for maintaining a well-groomed lawn at an affordable price.
However, one should keep in mind that these types of mowers may have some drawbacks when handling different types of terrain; rough terrains like rocky landscapes can prove challenging due to their low power support.
Nevertheless, despite these limitations, many landowners find residential zero-turn mowers highly effective and easy-to-use solutions,
Tailored especially for those who require only basic lawn maintenance on relatively small areas up to 1/3 acre lots within their property boundaries.
Commercial
Commercial zero-turn mowers are the ultimate solution for those looking to efficiently maintain expansive lawns, golf courses, and larger areas with ease.
These commercial-grade machines boast a bigger power capacity compared to residential mowers, making them perfect for taking care of lawns on a regular basis.
The powerful engines allow these exceptional pieces of equipment not only to cover more ground but also provide better functions that ensure clean-cut grasses in less time and energy.
One standout feature is their larger cutting deck designed specifically for handling tasks at hand swiftly without compromising precision – truly an indispensable addition, especially when managing vast territories like golf courses or estates.
Another advantage of investing in this type of mower lies solely on its capability to cater meticulously even towards challenging terrains encountered while maneuvering around various land types present within broader domains.
Proving itself as a dependable tool essential for performing jobs with utmost efficiency coupled with a reasonable price tag.
Given highly-commendable features distinguished from counterparts market today, all catering different specific needs unique to every user who has taken an interest in incorporating.
One useful item in daily routines, whether personal or professional, is the pursuit of maintaining beautiful landscapes all year round.
Our Verdict  
The Husqvarna MZ61 61 Zero Turn Riding Mower is an outstanding option for those seeking a reliable and efficient mowing experience on their 10-acre property.
This investment promises comfort, durability, and functionality in maintaining the cleanliness and aesthetic appeal of expansive yards. Its robust construction, paired with a powerful 27 HP engine, ensures efficiency even in large spaces or rough terrains.
Additionally, this mower's user-friendly design allows easy access to numerous features, such as twelve different cutting settings that cater to your landscaping needs perfectly.
The innovative nine-bushel bag enhances grass collection while providing impressive balance throughout its performance despite having minor drawbacks like reduced effectiveness on uneven lawns.
This may be rectified through proper care and extended warranty for safeguarding your long-term cultivation endeavors, bringing about significant enhancements in overall value. 
Check Out Our Similar Reviews
Why Should You Trust Us  
There are a lot of different lawn mowers on the market, and it can be tough to know which one is right for you. 
Senior staff writer Zane Williams has done the homework and spent over 100 hours researching different types of mowers and talking to experts in the field, like Justin Watkins of Earth Tones Landscaping. 
And we've put together this guide to help you make an informed decision about which one is right for you.
We only recommend products that we believe in and that we think will deliver value for money. 
We also test each of the mowers ourselves before giving our final verdict – so you can rest assured that they meet our high standards. 
Our goal is to help you find a lawn mower that suits your needs, budget, and lifestyle so that you can enjoy your backyard space worry-free.
FAQs (Frequently Asked Questions Best Zero Turn Mower for 10 Acres)
How Long Does It Take To Mow 10 Acres?
The time it takes to mow 10 acres depends on the speed and cutting width of your mower. For example, if you're using a zero-turn mower with an average speed of 6 mph and a cutting width of 60 inches, it would take roughly 4.5 hours. This is assuming optimal conditions with no obstacles and constant moving. However, real-life conditions such as the terrain, the density of the grass, and the presence of obstacles like trees or landscaping features can increase this time.
What is the estimated fuel consumption for a zero-turn mower when mowing a 10-acre area?
The fuel consumption of a zero-turn mower can vary widely depending on the model, engine size, terrain, and mowing conditions. However, on average, a zero-turn mower might consume between 1.5 to 2.5 gallons of fuel per hour. Therefore, for a 10-acre area that takes approximately 4.5 hours to mow, you might expect to use anywhere from 6.75 to 11.25 gallons of fuel.
What are the key features to look for in a zero-turn mower when considering it for maintaining a 10-acre property?
g.
Fuel Capacity: A larger fuel tank will reduce the number of stops you need to refill.
Durability: Look for a model built with durable materials to withstand regular heavy use.
Comfort: Features like a comfortable seat, good ergonomics, and easy-to-use controls can make a big difference when you're mowing for several hours at a time.
Terrain Capability: Depending on the terrain of your property, you may need a mower with specific capabilities. For hilly or uneven terrain, you'll need a mower with good stability and possibly four-wheel drive
How much time can you expect to save on mowing a 10-acre lawn with a zero-turn mower compared to a traditional riding mower?
Zero-turn mowers are generally faster and more efficient than traditional riding mowers due to their ability to turn on a dime and cut closely around obstacles. If a traditional riding mower takes about 8 hours to mow 10 acres, you can expect a zero-turn mower to do the job in about half the time, saving you around 3.5 to 4 hours. However, this can vary based on the exact models being compared, as well as the terrain and the presence of obstacles.
What is the average lifespan of a zero-turn mower when used regularly on a 10-acre property?
The lifespan of a zero-turn mower can vary greatly depending on the quality of the mower, how it's used, and how well it's maintained. On average, with regular use and proper maintenance, a good quality zero-turn mower might last anywhere from 7 to 10 years. Keep in mind that individual components may need to be replaced over time, including the blades, belts, and tires.