The Bad Boy MZ Magnum lawnmower is a top-of-the-line machine that will make your mowing experience considerably more pleasurable. It might change from being a chore to becoming a hobby. When they see how well-kept your grass is, your neighbors will be envious of you.
This commercial and household zero-turn mower has an unmatched engine that can quickly mow any size yard. You'll be able to reach those difficult-to-reach locations with ease because to its effortless maneuverability, ensuring that every square inch of your grass is perfectly manicured.
What The Bad Boy MZ Magnum Reviews will explore
In this article, we will discuss the capabilities of multiple categories, including the pros and cons of each, the ability to create your very own one-of-a-kind bad boy, and much more.
Choices available for the Engine, Choices available for the Deck, Zero-turn mowers' most important features, as well as their available accessories, prices, and technical details
MZ Magnum Capabilities
The MZ Magnum is a powerful and versatile zero-turn mower that can easily maneuver around any object in its path. With tank-lever controls, it can navigate even the most difficult terrain, including steep hills.
The hydrostatic transmission shifts automatically so you can concentrate on steering with both hands.
For precision cuts, the blade heightcan be adjusted from 1 inch to 4 inches high. The blade lift utilizes a foot pedal so you can quickly elevate the deck when necessary. The floating deck provides outstanding stability and comfort while cutting your lawn with two sway bars and three connections.
MZ Magnum Pros and Cons
The Bad Boy MZ Magnum is a zero-turn mower with a mid-range price yet performs similarly to more expensive models. It has a powerful 726-cc Kawasaki engine that allows it to reach 6 mph.
The wide 48-inch blade on the riding mower from the 4800 model allows it to mow greater lawns in a fraction of the time. Some people may find this lawn mower too expensive but if you have larger lawns or need to do commercial work, then this could be the perfect model for you.
Pros
The fuel tank can store 3 gallons
The hydrostatic transmission makes steering simpler
The maximum amount of maneuverability.
Cons
fuel gauge doesn't last long
Ability to Build your Unique MZ Magnum
Bad Boy Mowers is a company that takes pride in offering unique lawn mowers that can be customized to fit each customer's specific needs. With dozens of different accessories and customization options available, Bad Boy has something for everyone.
From different types of blades and engines to custom tires, there is no job too big or small for these versatile machines. No matter what your individual requirements may be, Bad Boy has you covered with their wide range of products and services.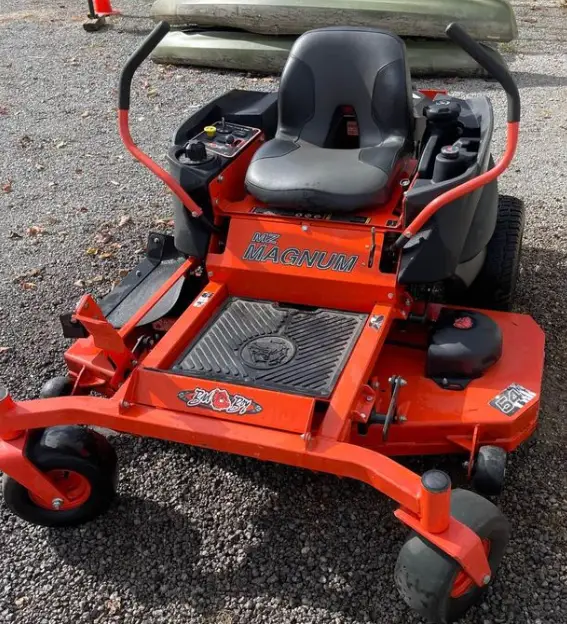 Mower Engine Options
The KOHLER 7000 725cc – 22hp is an excellent choice for those who need a powerful and reliable engine for their mower. This air-cooled V-twin engine is built upon the proven commercial engine design of the KOHLER Command PRO, and offers outstanding performance in any grass cutting situation.
The durable construction of this engine ensures years of dependable service, making it a great choice for anyone looking for a high-quality hp lawn mower option.
The Kohler Pro 7000 725cc – 25hp lawn mower is the perfect choice for anyone looking for a powerful and reliable machine. This mower is built tough to handle even the most stubborn weeds and thick grass, and its superior build quality ensures years of dependable service.
Thanks to its cc engine, this lawn mower has the ability to tackle any job you throw at it, making it an excellent investment for anyone in need of a high-performance machine.
The 726cc, 22-horsepower Kawasaki FR651 is a v-twin engine featuring a rotating grass screen and electrical spark ignition. This engine offers professional-grade power in a simple-to-use and maintain package. The FR651 is the ideal engine for people who require a dependable workhorse due to its powerful yet effective design.
The FR651 is perfect for ongoing, demanding workloads because it has been designed to be highly durable. With all the capability expected from a professional quality engine, it also manages to be user-friendly even for new users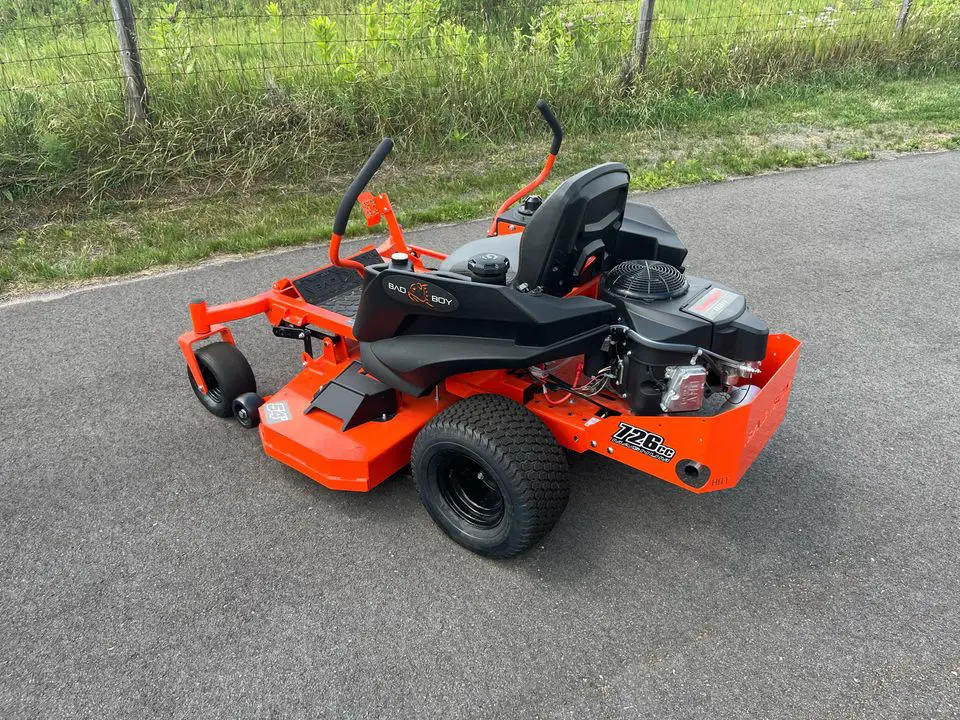 Mower Deck Options
Bad Boy Mowers offers a variety of mower deck options to choose from, depending on the size of your lawn. The 4800 series deck can cut up to 48 inches, with a 54″/61″-high or -low movable chute.
This is perfect for smaller lawns up to 4 acres in size. The 5400 series deck allows you to cut up to 54″, /67″, with a chute that can be raised or lowered by 58″.
This is ideal for medium-sized lawns between 4 and 4.4 acres in size. Regardless of which Bad Boy Mower Deck you select, you'll be able to speed about your property at 9 mph, making short work of even the biggest jobs.
Mower Key Features
The Bad Boy MZ Magnum is a premium zero-turn mower appropriate for professional use and larger lawns. The most notable feature of the Bad Boy MZ Magnum is its hydrostatic transmission, which makes steering easier than on other models.
The riding mower also has a large fuel tank capacity of 3 gallons, so you won't need to stop mid-job to refuel. Other convenient features include soft grips on the control levers and a cup holder to keep your beverage close at hand.
MZ Magnum Accessories
Bad Boy offers a wide range of accessories for the MZ Magnum, from tire upgrades to mulching kits to roll-over protection systems. No matter your needs, there's an accessory that can help improve your mowing experience.
One of the most important aspects of any lawnmower is its tires. The right tires can make all the difference in terms of performance and stability. That's why Bad Boy offers FIELDTRAX® TIRES, MICHELIN® TWEELS FRONT TIRES as an upgrade option for the Magnum. These tires are designed to provide superior traction and stability, regardless of your lawn condition.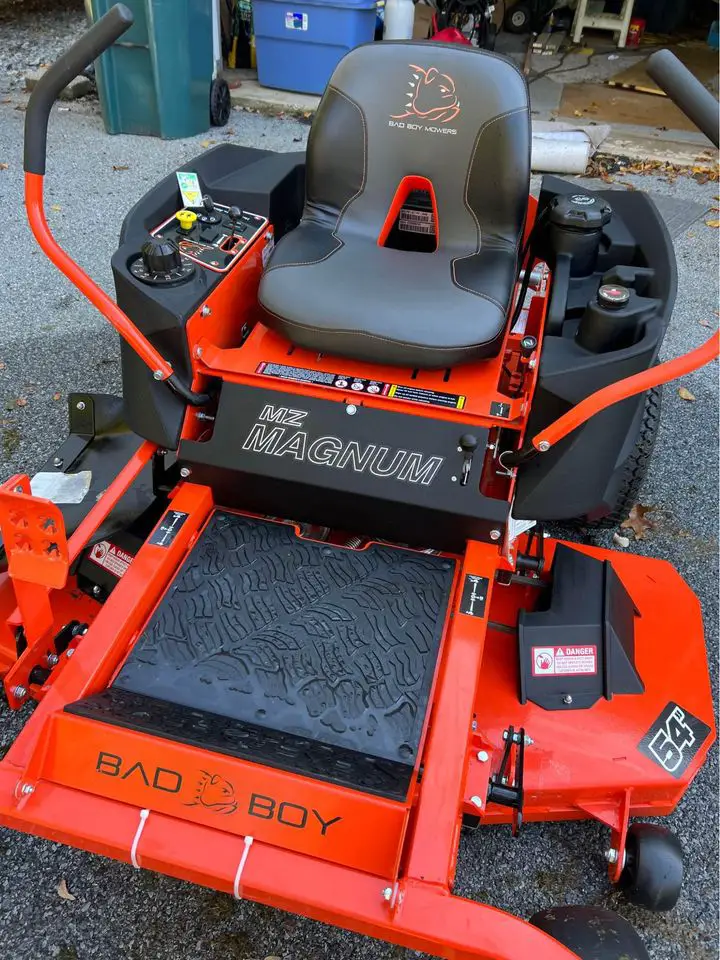 Another great accessory offered by Bad Boy is their ROLL-OVER PROTECTION SYSTEM (ROPS). This system helps to keep you safe while operating your mower, in case of a rollover accident. It also comes with a LED light bar, so you can continue working even when visibility is low.
If you're looking for ways to reduce grass clippings and improve lawn health, then consider upgrading to a mulching kit or installing powered bagger systems. Both options will help chopped grass clippings decompose more quickly back into the soil, resulting in healthier turf over time.
You'll also enjoy less cleanup after every mow! And if you want that perfect striped look on your lawn without putting down tape or hiring someone with a professional stripe machine – Bad Boy has you covered with their Rear Frame Mount Striping Kit!
MZ Magnum Zero Turn Mower Price
48″ DECK – 725CC KOHLER 7000 – MSRP $4,468.00
54″ DECK – 725CC KOHLER 7000 – MSRP $4,576.00
48″ DECK – 726CC KAWASAKI FR651 – MSRP $4,849.00
54″ DECK – 726CC KAWASAKI FR651 – MSRP $4,904.00
MZ Magnum Series Zero Turn Mowers Specs
Transmission: ZT-2200 EZT Integrated Unit
Deck Thickness: 3/16″ Thick Solid Steel
Cutting Height: 1.5″ – 4.5″ with Deck Height Control System
Lift & Height Adjustment: Foot-Assist Manual Lift with Dial-Style Height Adjustment. Optional Electric Lift.
Rear Tires / Front Tires: 18×9.5-8 Turf / 11×6-5 Smooth
Fuel: 5 Gallons, Unleaded Gasoline
Ground Speed (Forward): Up To 6 mph
Weight: 4800 – 659 lbs.; 5400 – 687 lbs.
Conclusion Complete Overview
The Bad Boy MZ Magnum is one of the market's most feature-rich and high-performance lawn mowers. With its quick speed, wide cutting width, and zero-turn capability, you can quickly finish your jobs.
The large fuel tank ensures that you won't have to stop in the middle of your task, and the hydrostatic transmission makes steering easy. This type is ideal for commercial use or larger lawns because it has comfortable grips on the control levers and a cup holder.
Why You Should Trust Us
There are a lot of different lawn mowers on the market, and it can be tough to know which one is right for you. 
Senior staff writer Zane Williams has done the homework and spent over 100 hours researching different types of mowers and talking to experts in the field like Justin Watkins of Earth Tones Landscaping. 
And we've put together this guide to help you make an informed decision about which one is right for you.
We only recommend products that we believe in and that we think will deliver value for money. 
We also test each of the mowers ourselves before giving our final verdict – so you can rest assured that they meet our high standards. 
Our goal is to help you find a lawn mower that suits your needs, budget, and lifestyle so that you can enjoy your backyard space worry-free.
FAQ (Bad Boy MZ Magnum Frequently Asked Questions)
What size mower do I need for 5 acres?
If you have a lot of area to cover, you may need a riding lawn mower. For a 5-acre lawn, you could need a riding lawn mower with a 42-inch deck size.
Is the MZ Magnum a commercial mower?
No, the MZ Magnum is not a commercial mower.
Are zero turn mowers good on hills?
While zero turn mowers can be used on hills, they are not ideal for this purpose. Because zero turn mowers have a very short wheelbase, they can be unstable on hills. If you must use a zero turn mower on a hill, be sure to go slowly and carefully.
How often should I change the oil in my Bad Boy mower?
What is the best mower for 3 acres?
The best mower for 3 acres is a riding mower.